Walkers brighten up Horsham for St Catherine's Hospice Midnight Walk
Published: 12 Jun 2018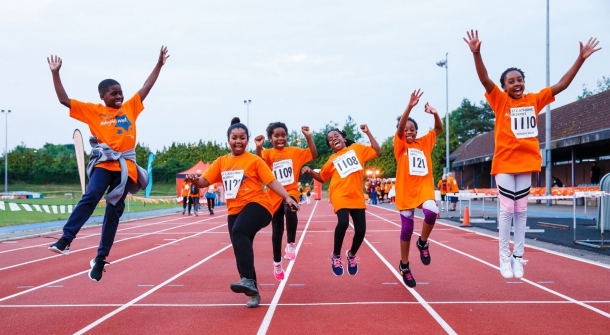 St Catherine's Hospice Midnight Walk hit the streets of Horsham on Saturday night (9 June). More than 1,000 men, women and children made their steps count by walking 7, 13 or 20 miles under the stars to raise money for local people facing death and bereavement.
Sponsored by Gatwick Airport, the event gave people chance to walk in support of their local hospice or in memory of a loved one. Their efforts are set to raise an incredible £157,000.
The night began at Broadbridge Heath Leisure Centre with a lively warm up by Clubbercise guru, Jo Cooper, and an energising performance by Horsham Rock Choir. A free photo booth also proved popular with walkers.
Following the warm up there were heartfelt speeches from Lesley Hall, Environment Health and Safety Director at Gatwick Airport, and Giles Tomsett, St Catherine's Chief Executive, who highlighted the importance of each walker's efforts in helping St Catherine's be there for everyone when life comes full circle.
Lesley said, "The work of St Catherine's Hospice is close to the heart of many Gatwick Airport staff. I'm delighted to represent Gatwick tonight as my family and I have firsthand experience of St Catherine's care from when they looked after my mother in law."
With the sun setting, and cheers from volunteer marshals, walkers set off in a sea of orange and neon. As they walked past St John's Church in Broadbridge Heath, many of them took the chance to light a candle in memory of a loved one.
Amongst the walkers were a team of nurses from St Catherine's who walked 20 miles. Susie Mockridge Deputy Ward Manager at St Catherine's said, "Every day I see the difference local people raising money makes to terminally ill people at the hardest time. I wanted to do my part to raise money too. It was really moving to see so many people walking in support of our hospice on Saturday and I hope they enjoyed the night as much as I did! For me, the Midnight Walk summed up our community at its very best. Volunteers giving up their time to cheer us on, and walkers coming together to have fun whilst raising money to support others. It was a fantastic evening!"
After completing their challenge, walkers crossed the finishing line to cheers from hospice staff and volunteers. They enjoyed breakfast whilst wearing a medal to mark for their incredible feat.
Louise Brown, Events Fundraiser at St Catherine's, said: "To see over 1,000 people walking to support the hospice was incredible. We're so grateful to them and their efforts in raising money will help us care for more local people in the future. I'd like to thank Gatwick Airport and all our volunteers for their support. The night was unforgettable!"
To find out how you can take part in future challenges for St Catherine's, please visit: www.stch.org.uk