Apprenticeships - Busting the Myths
30 Apr 2019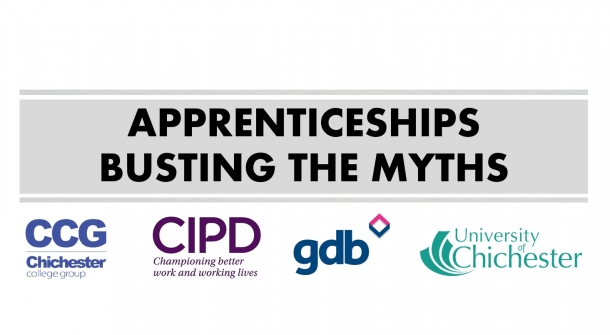 The Chartered Institute of Personnel and Development, Gatwick Diamond Business, University of Chichester and the Chichester College Group are pleased to announce that they are jointly hosting this conference on Tuesday the 30th of April 2019 at the Ashdown Park Hotel, East Grinstead.
Employers with a range of experience in running successful apprenticeship programmes will help "bust the myths" that stand in the way of more employers investing in and benefiting from apprentices.
The conference is aimed at HR professional from larger employers aiming to start or further develop their apprenticeship programmes and the leaders of smaller employers interested in learning how they can take full advantage of the opportunities available to grow their businesses.
SPEAKERS:
Paul Coley - Group Personnel Manager, Elite Hotels Group;

Kirsti Godson - Head of Apprentice Development, Thales UK

Peter Quilter - NatWest, Director with responsibility for the bank's "People Agenda" across its London, West Surrey and Sussex region; and

Garry Marshall - Technical Director of Lighthouse Systems

THE CHALLENGE:
When the Government introduced the apprenticeship levy in 2017, its aim was to increase the uptake of this form of vocational training. Take-up has been disappointing with the perception that the levy is a further tax on business, is overly bureaucratic and does not deliver value to those employers who pay it.
Meanwhile, smaller employers who do not pay the levy are failing to take full advantage of the opportunities it opens for them.
Figures from the Department for Education indicate a 28% decrease in number of apprenticeships taken up in the 2017/18 academic year.
THE OPPORTUNITY:
Bad press for the apprenticeship levy is creating a negative atmosphere for apprenticeships from the perspective of both employers and individuals – both are missing out on the opportunities available.
Meanwhile, there are employers, big and small and across all sectors, who are working with training providers to make the most of the support available to grow successful programmes. By attending this conference, you will learn from their experience and explore opportunities for collaboration.
EVENT DETAILS:
Date: Tuesday 30th April 2019
Venue: Ashdown Park Hotel & Country Club, Wych Cross, Forest Row RH18 5JR
Time: 8am-12:30pm
Price: £30+VAT for CIPD & gdb Members/University of Chichester & Chichester College Group Invitees
£40+VAT for non members & others
(Above prices include a light breakfast and refreshments)
To book your place through eventbrite, please click here