St Catherine's Hospice Welfare Advisor eases people's worries
Published: 09 Jun 2022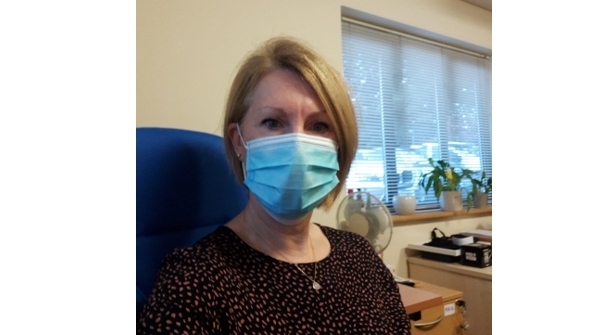 Rosie Mercado is St Catherine's Hospice Welfare Advisor and her work supporting patients and carers in the local community has never been more needed than now.
During coronavirus, many local people suffered through furlough and redundancies. Add the recent cost of living increases and people are struggling. This struggle becomes even more difficult for local families living with terminal illness. In fact, there has never been such financial hardship for patients during the history of St Catherine's as there is today.
Often when people are referred to their local hospice, Rosie finds they and their family, friends and carers have been struggling alone without support. People have often felt overwhelmed with forms, questions and navigating what financial help they may or may not be entitled too, as they try to come to terms with a terminal diagnosis and all the impacts that brings.
Rosie eases financial pressure and worry for people under St Catherine's care by supporting them to maximise income via benefits they're entitled to. She often makes people aware of benefits or options to apply for grants that they didn't know they could apply for, meticulously researching what is best for each individual person and circumstance. She also offers people advice on making or updating wills and fuel costs. When people can't talk on the phone or get to the hospice, she sees them at home.
Last year she took over the issuing of certificates for people who have six months or less left to live. This allows people to get maximum benefits as quickly as possible. These certificates used to be completed by local GPs but Kate Wells, St Catherine's Lead for Emotional Support and Rosie brought this in-house. Having access to extra benefits so quickly has a big impact on local families during a time it's needed most.
Each week the number of people needing Rosie's help has increased and referrals can range from 2-5 people per working day. Her caseload is currently 80 people and in the last seven months alone, Rosie has helped 360 people under St Catherine's care.
Her work has a huge impact on hospice patients. One patient said, "Rosie has given my daughter so much advice and support – she's been marvellous. When I was diagnosed, there was so much paperwork to handle but I was too ill to manage it, so it all fell to my daughter. Neither of us had any idea where to start. My diagnosis hit us like a bullet, but we knew we had to get things in order. Rosie has helped us so much – I don't know where we'd be without her."
Another relative told us, "Rosie helped us get a blue badge for our car and helped me to get the attendance allowance benefit. I've never had any financial help before while caring for my husband. I just thought wow! I wasn't expecting that kind of support."
A further patient shared how Rosie's 'understanding, kindness and professionalism in such a difficult time in my life is so appreciated' after she helped them sort out various benefits.
To make a donation to support the work of St Catherine's Hospice please visit www.stch.org.uk/donate or call 01293 447361.