SHW announces its Charity Partners for 2023
Published: 28 Feb 2023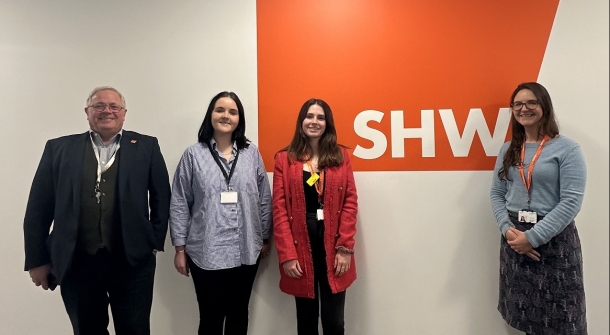 SHW has announced this year's Charity Partners, as chosen by the property advisory firm's team members.
Carrying on from its work with the charity in 2022, SHW will again be supporting Campaign Against Living Miserably (CALM) for a further 12 months. With 125 lives taken every week to suicide in the UK, CALM stands together to unite against suicide by provoking conversation, running life-saving services, raising awareness, and bringing people together to reject living miserably, providing help when people need it.
Adam Godfrey, Partner at SHW, says: "Together, the team at SHW decided that this year, rather than having two new charities per year, we will continue our support with each charity for two years, enabling us to form a greater partnership with each."
"In 2022, through a series of events, including our sporting days and the SHW Great Walk, we raised just under £3,000 for CALM in its vital work against suicide. We are also delighted to be embarking on a new partnership with St Catherine's Hospice, as chosen by our team across the South East."
St Catherine's Hospice is a local charity with a big ambition: to help everyone face death informed, supported and pain free. Providing expert hospice car for people in West Sussex and East Surrey, St Catherine's Hospice also pioneers standards in end-of-life care through collaboration, research, and training, reaching even more people facing death and bereavement.
In addition, SHW is also Corporate Partner with Lionheart and Bronze Partner with Pathways to Property.
Lionheart works with the surveying community to help build stronger and happier businesses, supporting past and present RICS professionals, and their families, from APC right through their working lives and into retirement.
Pathways to Property is a joint venture between Henley Business School and the University of Reading, aiming to widen access into the real estate profession by raising awareness and aspirations about the of the range of careers available within the industry.