Crawley Electronics Business on Path to Becoming 100% Carbon Neutral by Installing Panasonic Solar Technology
Published: 19 Aug 2015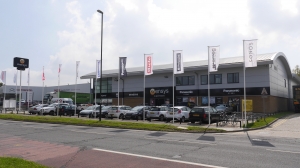 Avensys, one of Crawley's most popular consumer electronic stores that serves much of the South East, has completed work on its state-of-the-art Panasonic rooftop solar system. The system will provide the store with reliable, clean energy and significantly reduce its C02 emissions into the local environment.

The installation features 200 Panasonic HIT® solar modules reaching a peak power of 48 kW. Panasonic's solar modules are renowned for their high efficiency, quality and reliability, thereby maximising the amount of clean energy able to be generated.

As Founder Markus Wood explains, improving Avensys' environmental performance was an important priority for the company this year: "Since moving into our new premises in Crawley last year, we had a strong desire to become a leading environmentally conscious and sustainable business. By installing Panasonic's high-efficiency solar panels, we've been able to maximise the clean energy we're generating on a day-to-day basis, reducing our energy bills and decreasing our impact on the local environment."

Since completing the system in March this year, Panasonic has also selected its Crawley consumer store to launch its innovative virtual solar platform, one of only three stores in the UK to do so. The platform empowers visitors to make an informed decision about installing a solar system on their home by enabling them to virtually design a solar system on their roof. The platform then uses information from existing neighbouring solar systems to provide users with an accurate estimate on how much it would take to install a system, savings they can make on their electricity bills, and earnings they make from sending surplus energy back to the grid.

Daniel Roca, Panasonic's UK country manager, commented, "We're delighted to expand our partnership with Avensys this year. After delivering a high-efficiency solar system through our HIT modules earlier in the year, the opportunity to launch our Virtual Solar service in the Avensys store and bring this software to South East homeowners was a natural one for Panasonic."

Avensys, 01293 551585