Economic Affairs (Airports) sub-Committee review of the Airports Commission
Published: 18 Aug 2015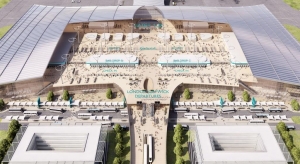 Response sent today to the PM & the Committee evaluating the Airports Commission recommendation. Co-signed by 26 business organisations across the region, It sets out why we feel Heathrow is the wrong choice and why Gatwick can and should provide the airport capacity we need.
Response sent today to the PM & the Committee evaluating the Airports Commission recommendation. Co-signed by 26 business organisations across the region, It sets out why we feel Heathrow is the wrong choice and why Gatwick can and should provide the airport capacity we need.
Economic Affairs (Airports) sub-Committee review of the Airports Commission
This response is on behalf of the business organisations listed below which have a collective representation of 6,000 businesses employing in excess of 100,000 people across the Coast to Capital region.
All through the course of the Airports Commission's work we have collectively lobbied for the next runway to be built at Gatwick. We are pleased that your Government understands the need for airport capacity growth and we welcome your commitment to finalising a decision on that growth within this Parliament.
We are disappointed with the recommendation from Sir Howard Davies but were pleased to note that your Government has committed to fully review the Commission's final report and evidence base before reaching a decision before the end of the year on which scheme Government will support. We will continue to press for you and your Government to ultimately choose Gatwick, as we believe it to be the right choice for the country and for the region. We feel that the Report from the Commission goes a long way to actually supporting that view as it does state that Gatwick is a credible, financeable and deliverable option, and that its review of economic benefits according to Treasury guidelines regards both Heathrow and Gatwick having comparable benefits. It is critical to bear in mind the constraints that have been placed on Heathrow, that are likely to be unattainable (1).
At a joint London First and London Chamber of Commerce Conference on 13th July 2015, John Holland-Kaye was questioned on Heathrow's commitment to those constraints. In reply, he would only say that he thought a "deal could be done" and so our interpretation is that he believes he cannot adhere to those constraints (2). Surely Heathrow should not be allowed to pick and choose the conditions set by Sir Howard. The conditions exist because Heathrow's environmental impacts are far greater than those of Gatwick, and have a negative impact on Heathrow's business case, deliverability and finance-ability which the Commission has simply failed to assess.
There are other flaws within the Commission's Report which we would draw to your attention as they undermine the recommendation and cast doubt on the deliverability of a runway at Heathrow in the timescale you have committed to. These include:

Traffic forecasts: The Commission is using estimates of passenger numbers at Gatwick that are out of date. The forecast used is for 40million passengers by 2024 when that number is likely to be reached this year as Gatwick has just announced a rolling total of just over 39million passengers (3).
Routes: The Commission seems to have based the recommendation on providing for long-haul travel to emerging markets which are, without doubt, important. However, it also states that Europe is where most of the growth will come and also states that Gatwick is best-placed to serve European destinations (4). Today, Gatwick has flights to 46 of the top 50 business destinations in Europe but is also growing a strong long-haul route network with a recent 17.6% increase in passengers travelling to North America (5).
Furthermore, while it is accepted that 1 in 4 of Heathrow's passengers travel on business, what has not been properly acknowledged is that 1 in 5 of Gatwick's own passengers are business passengers (6). The Commission has understated the economic impact of Gatwick as those 8million business people are exporting British products and services or are foreign businesses looking to invest or buy from Britain.
Competition: When the BAA was instructed to divest one or more Airports, leading to the sales of both Gatwick and Stansted, this was in the interest of fair competition between the Airports (7). However building a third runway at Heathrow would give that airport an unfair competitive edge over the other London Airports and goes against the findings of the Competition Commission. This is why a significant proportion of the traffic assumed at a three runway Heathrow is drawn not from new routes, but by pulling traffic away from other airports in the London area and across the Nations and Regions of the UK.
Noise: A third runway at Heathrow will put 550,000 residents into the 55LDEN noise contour, compared to 22,000 affected by a second runway at Gatwick (8). This appears to have been made light of in the Report and must be closely examined.
Air quality: Gatwick is and has been for many years well within EU and UK limits on Air Quality. For example the levels of Nitrogen Dioxide (NO2) measured independently in the last year is 27μg m-3 against a UK standard of 40μg m-3 of NO2 (9). On the 1st July 2015 a sensor at Heathrow measured 87μg m-3 of NO2 and so it seems unlikely that Heathrow can stay within legally binding EU limits (10) and will be subject to a legal challenge.
Infrastructure costs: The cost of developing surface access to service a third runway will require an estimated £5bn of public funds to provide new roads, road widening, junction improvements and a tunnel for the M25 (11). The Report also references a "Southern rail access to Staines" (12) which appears to be, as yet, un-costed and un-funded. TfL have estimated the true figure of the necessary transport upgrades should Heathrow expand, to be somewhere between £15billion and £20billion (13). The large scale public funding, the disruption and the scale of these construction projects must cast serious doubt on their deliverability.

Airline and Airport Operations: The future make up of aviation can be questioned and we feel that the role of Hub Aviation has been overplayed. Yes, it is an important model for some operators at Heathrow, but the rise of Low-Cost travel is likely to continue and so challenge the traditional Alliance and Hub aviation practices.
It is impossible to see how Heathrow will service all airline operating models. EasyJet have been very vocal in supporting the third runway at Heathrow rather than a second at Gatwick, stating that they would seek to operate from Heathrow (14). They claim that an increase in landing charges at Gatwick would be detrimental to their business. However Heathrow already has the highest landing charges in Europe (15) and these are set to rise to a figure that could be higher than a fare to Malaga. Furthermore, Lo-Cost carriers require a 30 minute aircraft turnaround (16) and the published layout of terminals and taxiways at the expanded Heathrow will not allow for such a quick turnaround. It seems that the true motivation for EasyJet's support is to compound their dominance of the low-cost market, by making any further expansion in low-cost fares all but impossible.
We support the construction of a second runway at Gatwick Airport. John Holland-Kaye is right in saying that this debate is not about a strip of concrete; it is about the positive overall economic, environmental and societal benefit to the country and this is best provided by the second runway proposed by Gatwick Airport Limited.
Heathrow faces many significant risks to delivery as a result of its high environmental impacts and complex construction requirements. At a time when the Commission concedes that a viable alternative exists at Gatwick, which can deliver the capacity we need for a lower cost and risk, we call on you to reject the recommendation by the Davies Commission and to fully support a second runway at Gatwick.
Supporting organisations:
Uta Acuna, President
Battle Chamber of Commerce
James Kimber, President
Bexhill Chamber of Commerce
Dean Orgill, Chairman
Brighton and Hove Economic Partnership
Peter Liddell, Director
Burgess Hill Business Park Association
Louise Hopkins, Chairman
Chichester Chamber of Commerce and Industry
Kirk Brown, Chairman
Coastal West Sussex Partnership Board
Paul Roe, President
Crawley and Gatwick Chamber of Commerce
Jeremy Woolger, President and Chairman
Crowborough and District Chamber of Commerce
Matthew Sims, Chief Executive
Croydon Business Improvement District (BID) Ltd
Richard Plant, Chairman
Develop Croydon
Mark McFadden, Transport Portfolio Holder
Eastbourne UnLtd Chamber of Commerce
Colin Slaughter, Regional Representative
Federation of Small Business (East Sussex)
Jeremy Taylor, Chief Executive
Gatwick Diamond Business
Paul Gresham, Chairman
The Gatwick Diamond Initiative
Rosemary Stimpson, Chairman
Gatwick Guest House Association
Rhett Vallely, Chairman
Gatwick Hotels Association
Anton Bree, President
Hailsham Chamber of Commerce
Jonathan Dolding, Company Secretary
Hastings Area Chamber of Commerce
Maureen Scholefield, Chairman
Haywards Heath and District Business Association
Trevor Goldsmith, Chairman
Heathfield Chamber of Commerce
David Clark, President
Lewes Chamber of Commerce
Annie Lorys, President
Newhaven Chamber of Commerce
Nigel Enever, Representative
Peacehaven Chamber of Commerce
Alisdair Fortune, President
Seaford Chamber of Commerce
Fiona Monson, Chairman
Uckfield Chamber of Commerce
Peter Bennett, Chairman
Worthing and Adur Chamber of Commerce

References
1 – The Airports Commission Report, p4
2 - http://www.travelweekly.co.uk/Articles/2015/07/14/55909/heathrow+seeks+talks+over+airports+commission+conditions.html
3 - http://mediacentre.gatwickairport.com/press-releases/2015/15-07-13-gatwick-june-traffic-stats.aspx
4 – The Airports Commission Report p62, para 2.51
5 - http://mediacentre.gatwickairport.com/press-releases/2015/2015-06-11-may-traffic.aspx
6 - http://www.gatwickairport.com/business-community/about-gatwick/at-a-glance/facts-stats/
7 - http://news.bbc.co.uk/1/hi/8317662.stm
8 - The Airports Commission Report, p27
9 – Gatcom Air Quality Monitoring Report: http://www2.westsussex.gov.uk/ds/cttee/gat/gat160715i5a.pdf
10 - http://www.mediacentre.gatwickairport.com/press-releases/2015/15-07-01gatwick-expansion-remains-only-deliverable-option.aspx
11 - The Airports Commission Report, p224
12 – The Airport Commission Report, p155
13 - http://www.airportwatch.org.uk/2015/04/access-to-new-heathrow-would-cost-20-billion-tfl-warns-maybe-15-billion-from-the-taxpayer/
14 - http://corporate.easyjet.com/~/media/Files/E/Easyjet-Plc-V2/pdf/about-easyjet/easyJet-response-to-the-airports-commission-consultation-jan2015.pdf
15 – http://www.ft.com/cms/s/0/3e417218-0079-11e4-9a62-00144feab7de.html#axzz3hx99XMfj
16 - http://travel.aol.co.uk/2015/02/24/low-cost-airlines-how-they-cut-costs/