New routes for Gatwick workers
Published: 22 Apr 2015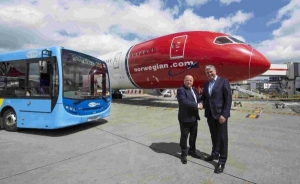 More public transport for Gatwick workers:
Metrobus is launching Crawley's second 24 hour bus route when Gatwick Direct route 200 starts running at night from 30 May.
The new night service will link Bewbush, Gossops Green, Ifield, Langley Green, Manor Royal and Gatwick Airport every hour through the night, seven days a week. Route 200 already provides a regular service the rest of the day, making the route a 24 hour service.
Normal fares will be charged and the usual passes will be accepted.
This is a further enhancement to route 200 which recently received brand new environmentally-friendly buses with free customer WiFi.
Gatwick has also partnered with Metrobus to fund two new early-morning services that will get passengers and staff to the airport before rail services have started.
The new routes are the 320 from Bognor, Littlehampton, Goring and Worthing to Gatwick and the 380 from Hastings and Bexhill to Gatwick. Both services are scheduled to arrive daily at the airport's north and south terminals for 4am and 6am from May 30.
Gatwick and Metrobus have also negotiated a dual ticket arrangement that allows bus passengers to return by train.