Response to the Davies Commission Report on Aviation
Published: 23 Jul 2015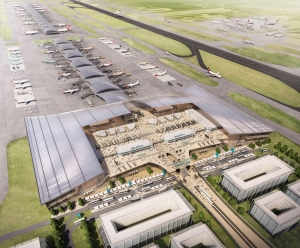 If you feel supportive, then you might like to use this in your correspondence to the Government, your MP and/or your local Council Leader(s).
We continue to lobby for Gatwick to gain a second runway and will be writing to the PM.
If you feel supportive, then you might like to use this in your correspondence to the Government, your MP and/or your local Council Leader(s).
Whether writing as a business owner/leader or as a private individual, please include your postal address otherwise your MP won't respond.
~~~~~~~~~~~~~~
(You should start with who you are & where your business is located, then something about your support for Gatwick & disappointment that Heathrow has been recommended)
I feel that the Report from the Commission goes a long way to actually supporting that view as it does state that Gatwick is a credible option, bearing in mind the constraints that have been placed on Heathrow, that are likely to be unattainable. John Holland-Kaye was questioned on Heathrow's commitment to those constraints but he would only say that he thought a "deal could be done". Surely Heathrow should not be allowed to pick and choose the conditions set by Sir Howard.
There are other flaws within the Commission's Report which undermine the recommendation and cast doubt on the deliverability of a runway at Heathrow in the timescale the Government has committed to. These include:
Traffic forecasts: The Commission is using estimates of passenger numbers at Gatwick that are out of date. The forecast used is for 40million passengers by 2024, but that number will be reached this year; Gatwick has just announced a rolling annual total of 38.8million passengers.
Routes: The Commission seems to have based the recommendation on providing for long-haul travel to emerging markets which are, without doubt, important. However, it also states that Europe is where most of the growth will come and also states that Gatwick is best-placed to serve European destinations. Today, Gatwick has flights to 46 of the top 50 business destinations in Europe but is also growing a strong long-haul route network with a 17.6% increase in passengers travelling to North America.
Furthermore, an estimated 20% of Gatwick's passengers travel on business. The Commission has understated the economic impact of Gatwick as those 8million business people are exporting British products and services or are foreign businesses looking to invest or buy from Britain.
Competition: When the BAA were instructed to divest one or more Airports, leading to the sales of both Gatwick and Stansted, this was in the interest of fair competition between the Airports. However building a third runway at Heathrow would give that airport an unfair competitive edge over the other London Airports and goes against the findings of the Competition Commission.
Noise: A third runway at Heathrow will put 550,000 residents into the 55LDEN noise contour, compared to 22,000 affected by a second runway at Gatwick. This appears to have been made light of in the Report and must be closely examined.
Air quality: Gatwick is and has been for many years well within EU and UK limits on Air Quality. For example the levels of Nitrogen Dioxide (NO2) measured independently in the last year is 27μg m-3 against a UK standard of 40μg m-3 of NO2. On the 1st July 2015 Heathrow measured 87μg m-3 of NO2 and seems unlikely to stay within legally binding EU limits.
Infrastructure costs: The cost of developing surface access to service a third runway will require an estimated £5bn of public funds to provide new roads, road widening, junction improvements and a tunnel for the M25. The Report also references a "Southern rail access to Staines" which appears to be, as yet, un-costed and un-funded. The large scale public funding, the disruption and the scale of these construction projects must cast serious doubt on their deliverability.
Airline and Airport Operations: The future make up of aviation can be questioned and we feel that the role of Hub Aviation has been overplayed. Yes, it is an important model for some operators at Heathrow, but the rise of Low-Cost travel is likely to continue and so challenge the traditional Alliance and Hub aviation practices.
It is impossible to see how Heathrow will service all airline operating models. Heathrow already has the highest landing charges in Europe and these are set to rise. Furthermore, Lo-Cost carriers require a 30 minute aircraft turnaround and the published layout of terminals and taxiways at the expanded Heathrow will not allow for such a quick turnaround.
We support the construction of a second runway at Gatwick Airport and will continue to lobby the Government to reverse the recommendation by the Davies Commission and to fully support a second runway at Gatwick.
~~~~~~~~~~~~~~~~~~~
As always, I am very happy to hear from those who are opposed & to give you a platform as well.
Jeremy