gdb Charity Challenge & Raffle Raises Thousands for Charity
Published: 02 Jun 2017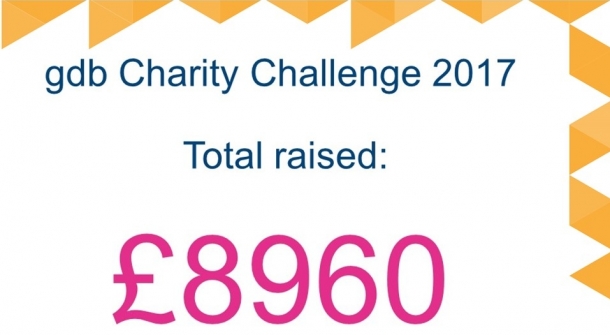 The gdb Charity Challenge took place at The South of England Event Centre on Friday 5th May 2017. The teams met for for pre-event refreshments ready for a fun filled afternoon of fully supervised 'It's a Knockout' events.
Teams included:
          2 teams from B&CE, The People's Pension
           Chestnut Tree House Children's Hospice
           DMH Stallard LLP
           Gatwick Express
           Gatwick Airport IT
           Kreston Reeves LLP
           Natwest Commercial
           Natwest Corporate
           Porsche Centre Mid-Sussex
   Richard Place Dobson
   Storm12
The event was a great team building activity meaning colleagues, clients and new contacts built stronger relationships, working together to win 1st place! The gdb Charities were out in force with fun activities for spectators to take part in and raising awareness for their charity. 
After using all that energy on the 'It's a knockout' events, participants enjoyed a delicious 2 course alfresco Paella dinner and canapé desserts. This gave the participants a chance to network with each other and get ready for the winner's presentation. 
To add to all the fun tickets for the gdb charity raffle were on sale from January 2017 right up until minutes before the draw, meaning lots of people were in for the chance to win some great prizes. Top prizes included 2 x return flights to Dubai with Emirates , 2 x return flights to Boston with Norwegian and 2 x return flights to anywhere in Europe with Norwegian. 
All of this in aid of the following charities:
Action for Children
Chestnut Tree House Children's Hospice
Dame Vera Lynn Children's Charity
Golden Lion Children's Trust
Kent Surrey/Sussex Air Ambulance
NSPCC
The Olive Tree Cancer Support Centre
Rockinghorse
St Catherine's Hospice Ltd
Sussex Community Foundation
Sussex Wildlife Trust
West Sussex Mediation Service
Young Enterprise
Young Epilepsy
WITH A GRAND TOTAL OF £8,960 BEING RAISED FROM THE GDB CHARITY CHALLENGE AND THE GDB CHARITY RAFFLE. 
Many thanks go to all the teams for taking part; raffle donations from Emirates, Norwegian, South Lodge Hotel, Crowne Plaza Felbridge Hotel, Roffey Park, Mannings Heath Golf Club & Wine Estate, Farleigh Golf Club & Restaurant, Search Consultancy; the spectators who attended on the day; the charities; Paella Fella for the catering; South of England Event Centre for hosting us; LPG Photographic for the photography; Altitude Events for the hosting the activities & last but not least the gdb team for organising the event.