Brave 'soles' hot-foot it at St Catherine's Hospice Firewalk
Published: 27 Mar 2018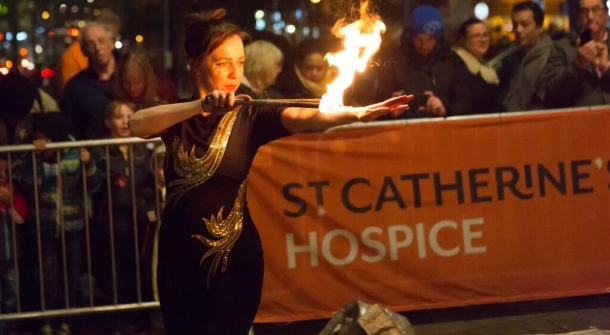 Crawley's High Street was sizzling on Friday night (23 March) when more than 120 people walked across fire to raise money for St Catherine's Hospice.
Brave 'soles' had a briefing from UK Firewalk staff, who shared their top tips for successful firewalking, before facing 15 foot of red hot embers.
Amongst them was Alan Peckham from Crawley, whose sister Janice was looked after by St Catherine's. He said: "The hospice made Janice feel safe and comfortable. They treated her as a person, not a patient, and their care was inspirational. The Firewalk tonight was fantastic! It was really exciting walking across the hot coals and quite out of character for me as I don't tend to take risks too often. It's been great to go out of my comfort zone to raise money for a cause I feel really strongly about."
As well as the main Firewalk, 13 under 18s faced a tough challenge of their own, braving a pit full of Lego bricks barefoot. Eloise Colclough, 6, took part in the brick walk dressed as a superhero. She said, "I've seen my Daddy step on a piece of Lego so I was really worried, but I just took a deep breath and did it! St Catherine's do amazing things for very poorly people and I really wanted to help. Raising money has been fun, I even got my teachers to sponsor me!"
Michaela Clements, Events Fundraiser at St Catherine's said "We'd like to thank everyone who braved the flames, Lego bricks or came out and supported our Firewalk on Friday evening. It was a brilliant night and humbling to watch people pushing themselves out of their comfort zones to raise money to support local terminally ill people.
For many local people, including some who took part on Friday night, St Catherine's has supported someone they know – a family member, friend or neighbour. At the moment, for every person we care for, there are two others who need us who we can't help. This is something we're determined to change. Thanks to the support of everyone who took part on Friday we're one step closer to being able to support more people."
The Firewalk is on track to raise an incredible £30,000 but it's not too late to donate. If you would like to support the event you can donate online at: www.justgiving.com/campaigns/charity/stcatherines/firewalk2018 or to find out how you can take on a future challenge for St Catherine's please visit: www.stch.org.uk