East Surrey College launches new Part-time courses to start September 2018!
Published: 02 Jul 2018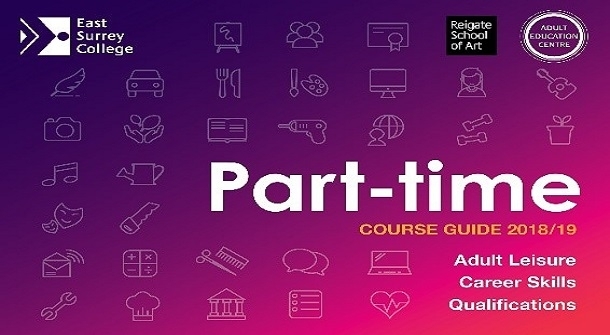 If you fancy learning a new hobby or want to improve your career prospects with a qualification, discover the exciting range of over 380 part-time courses for local adult learners in our new Part-time Guide 2018/19.
Professional qualifications and career skills courses
Whether you are looking for professional qualifications, business training or thinking of changing career, there's lots of options to choose from including AAT Accredited qualifications in Accounting, HR and Management, Information Technology, Construction, Engineering, Teaching, Counselling, Hair, Beauty and Spa as well as EFL and ESOL courses for those with English as a second language or more.
FREE Maths and English courses for Adults
If you want to improve your job prospects or simply help the kids with homework, our range of FREE Maths and English courses and qualifications are designed to improve your reading, writing and numeracy skills.
Leisure courses
It's never too late to learn a new skill or take up a new hobby! A leisure course is an excellent opportunity to try something new or develop your existing skills. From affordable taster sessions through to advanced levels, there is something for everyone including Calligraphy, Computer Skills, Photography, Yoga, Nail Art, Car Maintenance, Floristry, Foreign Languages, DIY, Coping Strategies for Stress and so much more!
For more information, visit our website: www.esc.ac.uk or pick up a Part-time Guide at College or in your local Library.