Kreston Reeves Chairman Clive Stevens retires after 42 years
Published: 29 May 2019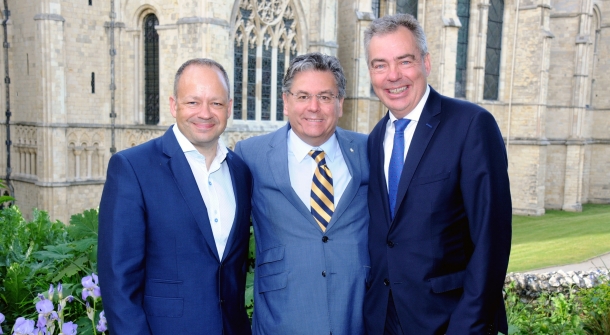 Clive Stevens the long-serving chairman of accountants, business and financial advisers Kreston Reeves has officially retired from the firm which he has been pivotal in expanding to be one the largest in the South East after 42 years with the business.
At a drinks reception at Canterbury Cathedral Lodge, friends, colleagues and clients gathered and heard Clive's journey with the firm. Clive had joined the firm's Sandwich office in 1977 (what then was Reeves & Neylan) and he then went on to work in their Margate office. Clive's determination and drive saw him work in the firm's Canterbury and Sittingbourne offices before becoming a partner of the firm in 1989 and Managing Partner in 1995. Clive's ambitions for the business were to expand westwards, merging or acquiring practices in Chatham, London and across Sussex with the merger with Spofforths in 2016.
Clive became chairman of the firm in 2013 and for the past six years, under his chairmanship, the firm has continued to grow becoming a top 25 firm in the UK with more than 17,000 clients.
Andrew Griggs, Senior Partner at Kreston Reeves, described Clive's energy and drive as legendary; "he always pushes for action and gets things done."
As well as being a director and Chairman of the firms' international Kreston network which includes over 200 firms across the world, he is also a Kent Ambassador, Deputy Lieutenant of Kent and a past Director of Locate in Kent. Clive is a council member of the industry's professional body ICAEW, a member of the Institute of Directors and the Royal Society of Arts. Clive is also the Chairman of the Turner Contemporary Gallery in Margate.
Andrew Griggs continued: "Clive has often said it was his first job after school – stacking chairs on Margate beach and managing the takings which originally inspired him to become an accountant. It's entirely appropriate that over 40 successful years later, he should be surveying those same beaches in his role as Chairman to Turner Contemporary and on the cusp of welcoming the iconic Turner Prize exhibition to Margate in December 2019."
Clive Stevens commented: "I've been involved with managing the firm for the last 25 years and it is much more than a business, it works at the forefront of a profession which in my view has obligations to act in a wider public interest which also serves the communities in which we work. This is what makes the firm and the people in it valuable and I think this is the secret to your future success in a rapidly changing and volatile world. I will still continue with my roles in the wider profession and community and will be a consultant to Kreston Reeves so the word retirement is a bit of a misnomer. I would like to thank you all for your support in my career to date. I only hope that in some small way I have been able to touch your life for the better as you all have done for mine."