St Catherine's Hospice Volunteers win Mayor Awards!
Published: 29 Jul 2019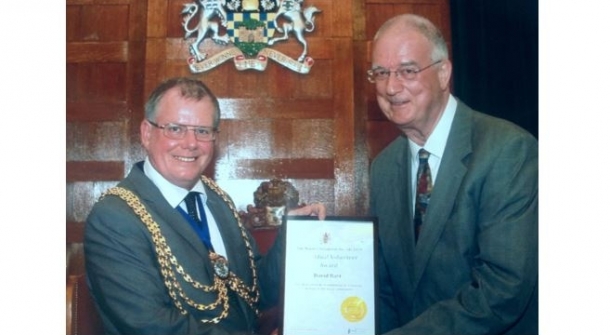 St Catherine's Hospice is celebrating after two of its volunteers were recognised at the recent Reigate and Banstead Mayor's Volunteer Awards.
David Barr and Ros Simmonds won voluntary awards in recognition of the difference they have made to their local hospice. Both David and Ros have been volunteering with the local charity since 2012 (April and October respectively.)
David volunteers as a Patient Driver for St Catherine's Woodhatch Day Hospice in Reigate. Without him some patients wouldn't be able to attend the Day Hospice so he makes a huge difference to their lives. He also performs a vital role delivering prescriptions and specimens like blood to East Surrey Hospital. This is essential in making sure St Catherine's clinical staff have the information they need to provide people with the best possible care. In his time volunteering David has driven 22,730 miles and donated more than 1,000 hours of his time.
Ros makes an equally valuable contribution to St Catherine's in her role as a Ward Support Assistant. She gives her time to offer patients therapeutic activities like hand massages and paints their nails. Her personalised care brings huge value, lifting people's spirits at a difficult time. In her time volunteering she's donated at least 931 hours.
Peter Nesbitt, Volunteer Development Manager at St Catherine's, said, "Our 1,000 plus volunteers are some of the biggest donors to our hospice. And they help us in so many ways. From driving patients to helping in our hospice kitchen and gardens. From offering people a listening ear in their own homes, to helping in our 15 charity shops, and assisting at our fundraising events. There's no aspect of our hospice which runs without them. Without our volunteers we wouldn't be able to offer the same level of care and support to local people. So we're incredibly grateful for the time each one of them gives. They allow us to offer local people outstanding care and enrich our hospice by bringing their own skills and experiences. We're absolutely thrilled that David and Ros were recognised with Mayor awards. Both of them deserve it. They make a vital difference to terminally ill people in their community and we're very proud to have them as part of our hospice team."
On winning his award, David said, "It was a big surprise to discover that I'd been nominated for, and won, one of the Mayor's Individual Awards for "dedication and commitment to voluntary service in the local community".  With over 1,000 people volunteering for St Catherine's alone, and thousands more for other local charities, it was an honour to be selected.  The award winners were certainly not the grandees of the charity world.  They were people just getting on with the job of trying to contribute something beneficial to those in the community less fortunate than themselves. I was very impressed by – and enjoyed the company of – fellow award winners on that evening.  I was proud to be one of them."
Ros added, "I feel very passionate about volunteering at St Catherine's and really enjoy what I do here. It's part of my week and I feel I can make a difference. I can't make people better but I can help them to relax. Often people apologise if they fall asleep but that's a compliment. One lady told me I'd taken her pain away. That made my day as I'd made a difference to her. You can't get much better than that. Receiving the award from the Mayor was very special, especially as he'd visited the hospice the day before. It was lovely that he told me that as he gave me my award."
If you would like to volunteer to help your local hospice St Catherine's would love to hear from you. With great summer events coming up, and current volunteer roles right across the areas where St Catherine's provides care, now's the perfect time to sign up! For more information please visit: www.stch.org.uk/volunteer, call the Volunteering Team on 01293 447351, or email volunteering@stch.org.uk