3 'muppets' get ready to set sail again for local hospice
Published: 15 Oct 2020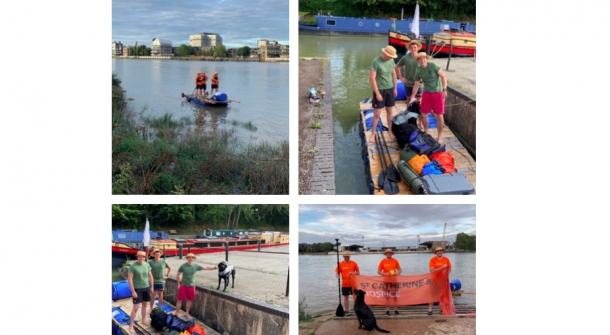 After recently paddling from Devizes to Chelsea, a trio of hospice supporters are ready to set sail again! 
Following a challenge from radio presenter, Sam Pinkham, live on the Chris Evan's Breakfast Show, to tackle crossing the Solent next, Charles Reynolds, and his friends, Kit Burgess, and Jamie Pratt, three self-proclaimed 'muppets', have been getting their homemade raft ready for this ambitious challenge, and hope to set off on Thursday 15 October. 
Charles said, "We don't underestimate this challenge. It was really hard to paddle our homemade raft against the light breezes on the river Thames, now we're going to try and battle the waves and the wind and cross from Portsmouth to the Isle of Wight. It's going to be much more challenging, some say impossible, but we're optimistic and excited to give it our best go! 
The only thing that's made us accept such a tough, and slightly ridiculous challenge, is that it's for such an amazing cause in memory of my father, Rob, who died in May this year after a short battle with cancer. 
When my father was diagnosed with a brain tumour in February this year and moved from a local hospital into St Catherine's Hospice, the staff, particularly the nursing team were amazing. They treated my father with the utmost respect and dignity, allowing him to have a peaceful death surrounded by his family. This meant more than anything. 
Everyone should have access to a hospice and its care when needed, but funding is short for these vital services. So off we go again to raise more money for St Catherine's! 
We're currently making modifications to our raft, adding some form of bow to our craft, which is made up of a wooden frame, floorboards and agricultural barrels. We're also hoping to be joined by Vassos, Chris Evan's sporty co-host, who is planning to swim the Solent alongside us, and we'll have a couple of boats coming alongside us too. 
Anything you can do to support us in our ambitious challenge would be very gratefully received. We'd love, with your help, to raise some serious money for our local hospice – it's such a worthy cause, and your support will help make sure St Catherine's can continue providing their brilliant care to other families like mine." 
Arron Trott, Events Fundraiser at St Catherine's Hospice said, "We wish Charles, Kit and Jamie lots of luck for this incredible challenge. Having triumphantly returned from their last challenge, where they raised more than £11,000 for our hospice, we hope lots of people will follow this adventure and support the guys again. We're so grateful for their continued support and adventurous spirit. The 'muppets' efforts have, and will, make a huge difference to local people in their community when it's needed most. We can't wait to see how they get on!"
To follow the three 'muppets' on their journey, visit St Catherine's Hospice, Crawley on Facebook and to make a donation to support them please visit: https://www.justgiving.com/fundraising/three-muppets-and-a-raft-solent