Chichester College Group are hosting a free webinar on Managing Team Dynamics
Published: 28 May 2020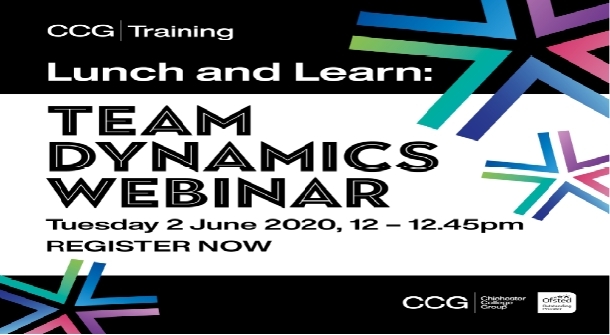 How well do the people in your team get along? Do they trust each other? Do they work collectively?
Lunch and Learn with the Chichester College Group on Tuesday 2 June 12:00 - 12:45pm via Zoom to understand how to manage your team's dynamics and recognise the abilities of your team members to achieve maximum performance.
It's free to join, you just need to register in advance! Click here to register: https://zoom.us/webinar/register/WN_Mma5LCSrTQSILdOwNhz_jQ
What you'll learn:
What are team dynamics
Different models to manage team dynamics
Tools and activities to improve team dynamics in the workplace or remotely
A taster of our Institute of Leadership and Management (ILM) programmes
Delivered and presented by our expert industry lecturers at Chichester College Group – rated 'Outstanding' by Ofsted in all areas. View Ofsted report here.