Chichester College Group Business News September 2020
Published: 17 Sep 2020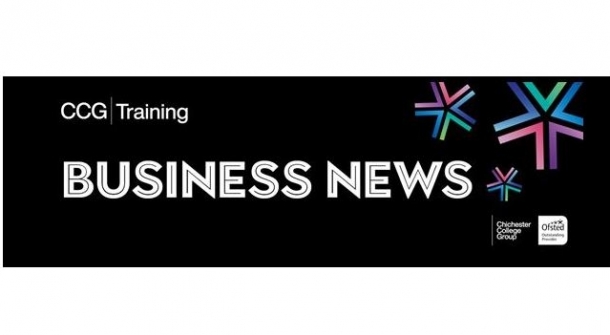 A warm welcome to the new academic term at the Chichester College Group

It has already been a busy start to the year and it's great to speak to many businesses that are on the road to recovery. Since our last newsletter, we were delighted to have been awarded in the Top 50 apprenticeship providers in the UK according to 'RateMyApprenticeship'.
It's always fantastic to hear the impact that our apprentices have on the business they work for. If you are looking for a new member of staff, it's not too late to take on an apprentice, they add real value to the organisation and there are a range of incentive grants available.
Earlier this month, we launched our 'Rebuild Your Skills' campaign designed to support those who have lost their job or whose hours at work have been impacted by coronavirus.
Last week, we opened our new Haywards Heath College and welcomed hundreds of new students onto A-level programmes. In coming months, we plan to offer a range of Adult Education programmes as well as Apprenticeships. If these are something you would like us to offer, please drop me an email.
Finally, we are really excited to announce our partnership with a range of organisations including the Chichester Chamber of Commerce, Haywards Heath Business Association and the Manor Royal BID as we announce we are acting as a intermediary for the new Kickstart Scheme. We are really excited to start supporting SME businesses to create job placements for young people in the region. To find out more, join our live webinar on Thursday 17 September at 2pm. Click here to register.
Paul Rolfe
Group Director Commercial, Sales & Marketing
NEWS UPDATES
Join Kickstart Scheme Webinar

The Kickstart Scheme provides funding to employers to create job placements for 16 to 24 year olds. Funding will cover 100% of the relevant National Minimum Wage for 25 hours a week, plus the associated employer National Insurance contributions and the employer minimum automatic enrolment contributions. To find out more, join our live webinar on Thursday 17 September at 2pm. Click here to register for webinar.
Claim your apprenticeship incentive grants!
You have until the end of January 2021 to take on a new apprentice and receive up to £3,000! To claim the incentives, all employers must create an account on the digital apprenticeship service (DAS). The payments will be made in two equal instalments at day 90 and day 365 of the apprenticeship. We can help you create an account on DAS, please email our dedicated adviser Audrey or call 01243 812948.
Adur & Worthing Apprenticeship Grants
Adur & Worthing Councils, in partnership with Adur and Worthing Business Partnership, have announced a fourth round of their highly successful Small Business Grant and Apprenticeship Grant Funding, for micro and small businesses in the Adur and Worthing area. This means you could receive up to £4,000 for each new apprentice you take on! For more information click here
Book Mental Health First Aid Training 
We are pleased to announce that our half-day and 2-day MHFA training course will now be delivered online, as well as in-house or at Crawley College. Prices start from £110 (including exam fees, refreshments and lunch). Recognised and awarded by Mental Health First Aid England. For more information call 01293 442344 or email train@ccgtraining.ac.uk. 
Help support apprentices who have been made redundant 
Sadly, COVID-19 has caused some businesses to make redundancies, leaving experienced, work-ready apprentices without an employer. Working with an organisation like yours could give them the chance to complete their apprenticeship. If you're interested in hiring an apprentice who has been made redundant, please click here or email employers@ccgtraining.ac.uk. 
Crawley College on track to open state-of-the-art STEM facility
Have you read our recent article in the Gatwick Diamond Business Magazine? Take a look at Page 10 to find out more about our new STEM centre opening in February 2021. If you're interested in supporting the project, please email us at employers@ccgtraining.ac.uk.
Free Apprenticeship Webinar Series for Employers
Due to a popular demand, we've added more dates to provide employers, line managers and mentors with tips and advice on how to motivate apprentices and support their success. All webinars are free, you just need to sign up in advance!
OneFile
Wednesday 23 September 2020, 12:00 - 1:00pm
Who's Who in CCG Apprenticeships?
Wednesday 30 September 2020, 12:00 - 1:00pm
Training For You
Tuesday 6 October 2020, 12:00 - 1:00pm
Behaviour and Skills
Wednesday 14 October 2020, 12:00 - 1:00pm
Upcoming webinars in November and December include writing an employer reference or testimonial, 20% off-the-job training and End Point Assessment (EPA). If you would like to suggest a webinar topic please get in touch at employers@ccgtraining.ac.uk.