Govia Thameslink Railway - Latest wave of stations treated with 30-day virus killer
Published: 23 Jul 2020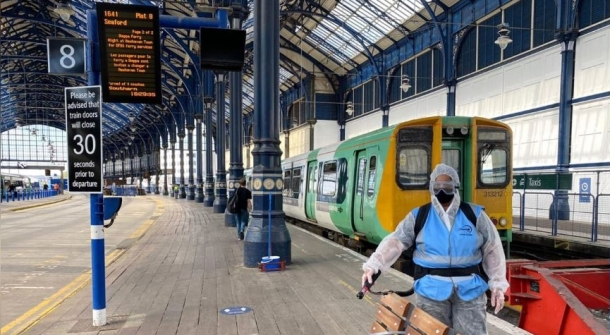 Thameslink, Great Northern and Southern are treating their stations to the latest round of sanitisation, which uses a special product that kills viruses for up to 30 days.
Parent company Govia Thameslink Railway has been using the viruscide at stations and on board its trains since May to supplement its already-enhanced cleaning regime.
The 30-day viruscide treatment is repeated every 21 days and the most recent wave of cleaning is taking place at stations including St Albans and Brighton, Flitwick, Harlington, Worthing, Hassocks, Oxted and Plumpton.
High-pressure dry steam and microfibre units are first used to thoroughly clean before electrostatic wands and backpack misting devices coat surfaces with the product, forming a molecular bond.
GTR Engineering Director Steve Lammin said: "Our travel safer pledge means we are taking extra steps to protect people from the coronavirus by boosting cleaning with this 30-day viruscide, providing touch-free hand sanitisers, and running as many trains as possible.
"I would remind passengers to avoid the busy times of the day, wash or sanitise your hands before and after each journey, wear face coverings, maintain social distancing, and if possible buy your ticket in advance or pay by contactless."
Thameslink, Great Northern and Southern have all posted details of busy trains and stations to avoid on their websites so that passengers can plan their journeys with confidence. These alerts are also attached to trains in the National Rail Enquiries online journey planner www.nationalrail.co.uk.