Govia Thameslink Railway - Railcards added to KeyGo smart ticket
Published: 24 Aug 2020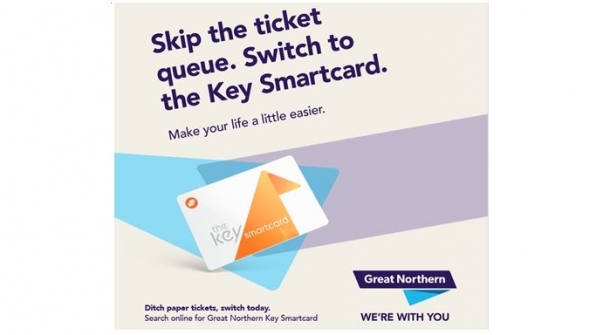 What is KeyGo?
KeyGo is an optional add-on to the Key smartcard that transforms the Key smartcard into a pay-as-you-go product for most of the GTR network, Metrobus, Brighton & Hove buses and parts of the Great Western Railway network.
It relies on users tapping in and tapping out at stations across the network. Users will then be charged the lowest applicable walk-up day fare based on their journey, such as a super off-peak day return on weekends.
While TfL is unable to support KeyGo, where journeys occur within the London zones on GTR services, journeys will be price matched with the equivalent Oyster fare, Travelcard price for journeys, or National Rail fare, whichever is cheapest. This includes daily capped fares.
Where can KeyGo be used?
KeyGo is valid across most of the GTR network as shown on the green lines in the map below. We are working with other operators such as Southeastern, LNER and Greater Anglia to support KeyGo. The Key smartcard uses the common ITSO industry standard.
KeyGo is also supported by Great Western Railway for journeys between Redhill and Dorking Deepdene and between Warblington and Brighton as well as Brighton & Hove buses and Metrobus services.
A larger version of the map below can be found on the KeyGo information page: https://www.thameslinkrailway.com/tickets/the-key-smartcard/keygo or directly at this link (PDF download): https://www.thameslinkrailway.com/-/media/goahead/gtr-all-shared-pdfs-and-documents/key-documents/gtr-1805-ret-keygo-area-map-v27.pdf?la=en
Why is the addition of railcards important?
The addition of railcards means that KeyGo is now in most circumstances, always the cheapest option for a "turn up on the day of travel" type journey. This makes it a very convenient option for travel and avoids the need to queue to purchase or to collect a ticket bought in advance.
We expect the product to be very popular with customers that are travelling relatively regularly on the GTR network, for example a commuter or university student that travels from Hassocks to Brighton 3-days per week can travel in the knowledge that they will benefit from the lowest walk-up fare, including railcard discounts if applicable, and that they will benefit if some days they travel in the peak, and on others at off-peak times, with KeyGo working behind the scenes to provide the lowest cost option.
Which railcards are supported by KeyGo?
KeyGo supports most common railcards that are issued on an individual basis. A customer can add multiple railcards to their account if applicable. When they travel, the railcard that provides the largest discount for that individual journey will be automatically used.
This includes:
16-17 Saver
16-25 Railcard
26-30 Railcard
Senior Railcard
HM Forces Railcard
Annual Gold Card
Disabled Persons Railcard (N.B – only the Railcard holder, an accompanying passenger if applicable will need a separate ticket)
Network Railcard
Jobcentre Plus Discount Card 
How does a customer add a railcard?
Via their online account. We aim to verify and add discounts within 5 working days of submission.
What other smart ticketing options are available?
KeyGo is an optional add-on for the Key Smartcard. In addition to KeyGo, the Key smartcard supports:
Season tickets – Season tickets can be bought online and loaded through the mobile app or by collecting at a station gateline or validator. Travelcard seasons are also available for use across TfL services.
Day tickets – Anytime or off-peak day tickets including with travelcards or common railcard discounts can be purchased at ticket vending machines or ticket offices and loaded to the Key as an alternative to a paper ticket.
GTR also supports eTickets. eTickets sometimes called mTickets or barcode tickets are electronic tickets. They are available direct from our websites and can be printed at home, or more commonly, saved and displayed on a smartphone.
eTickets are available for journeys between all ungated stations and between most major stations such as the London terminals and major cities and towns such as Brighton where barcode readers have been fitted to the gatelines, approximately 65% of the network at present. The full range of tickets including railcard discounts are available as eTickets.
On routes where eTickets are available, they will show as the default delivery option when purchasing tickets online.