Govia Thameslink Railway food bank pilot scheme collects over 800 meals for local charities
Published: 09 Sep 2020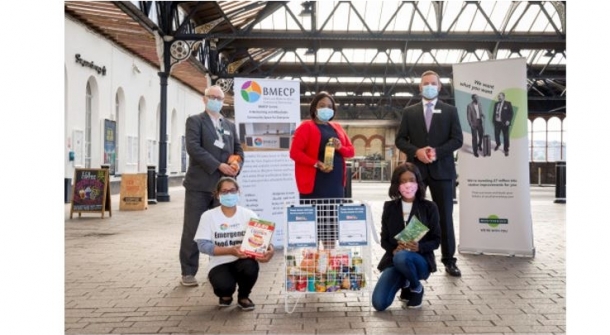 Thanks to generous donations at Bedford and Brighton stations, a total of 822meals have been given to those desperately in need, following a six-week community pilot scheme from Govia Thameslink Railway and UK charity, The Trussell Trust.
The Railway Food Collection is a partnership between Govia Thameslink Railway and local food banks that aims to encourage members of the public, as well as railway staff, to donate food and other essential items to vulnerable people in their local communities. Following the widespread impact of the Covid-19 pandemic, food banks across the country have seen unprecedented need for support.
With the railway serving an important role in supporting and connecting local communities, the pilot helped support The Black & Minority Ethnic Community Partnership (BMECP) Food Bank in Brighton & Hove and the Bedford Foodbank to increase the number of families in crisis that they can support.
During the six-week pilot, it was discovered that The BMECP Food Bank was desperately in need of pasta and sanitary products and the Bedford Foodbank had received surplus supply of both. Thanks to a direct Thameslink journey, 70 kilos of pasta and five boxes of sanitary products were successfully delivered by train from Bedford to Brighton for BMECP's collection.
At the height of UK lockdown restrictions in April 2020, the Trussell Trust's network of food banks saw an 89% increase in need compared to the same period last year, with a staggering 107% increase in emergency food parcels for children. The Railway Food Collection pilot has seen a total of 822 meals donated to both The BMECP Food Bank and the Bedford Foodbank.
Tom Moran, Managing Director for Thameslink and Great Northern, said, "We know that demand for food banks soared during the pandemic and resources continue to be stretched. The Railway Food Collection pilot has helped to deliver essential items in both Bedfordshire and Brighton and we are really grateful to all those who have donated. The six-week pilot has been very successful in supporting local communities and we are currently looking at ways to continue the scheme."
Sarah Broughton from The Bedford Foodbank comments: "We've seen a steep increase in the amount of people using our services since Covid-19. We rely on donations from the public to enable us to feed households experiencing food poverty. Since March, The Bedford Foodbank has fed 4,340 adults and children. The support from Govia Thameslink and The Railway Food Collection has really helped us at a time we need it most – we are very grateful to all those who donated at Bedford station."
Juliet Ssekitoleko, from the BMECP Food Bank says: "Times are tough, unemployment is high and most BAME communities have been affected with this pandemic. The Railway Food Collection gave us another way to collect essential items for our vulnerable BME community and we are glad that it's been such a success."
Notes to editors
For full information on The Railway Food Collection pilot, go to: www.nationalrail.co.uk/foodcollection
Bedford Foodbank started in 2011 and is part of the Trussell Trust network of Food Banks. Bedford foodbank hands out over 9 tonnes of non-perishable food a month which currently feeds over 650 people each month from the Bedford Borough area. Clients can be referred by over 200 referral agencies who are working with users; they are given a voucher which they then take to one of seven local distribution centres, where they are given a food parcel for the number of people in the family to last for 3 days. In March Bedford Foodbank fed over 1,000 people and distributed 11 tonnes of food. The organisation is supported by more than 85 volunteers.
For more information, go to: https://bedford.foodbank.org.uk
The Black & Minority Ethnic Community Partnership (BMECP) Food Bank provides emergency food parcels for people in crisis who live in Brighton and Hove. Each food parcel contains non-perishable and nutritionally balanced food items. The food bank is open every Friday from 12pm to 3pm. The foodbank takes referrals for individuals, families and professionals.
For more information, go to: www.bmecp.org.uk