HESIS - COVID-19 Deep Clean and Sanitisation Service
Published: 01 Apr 2020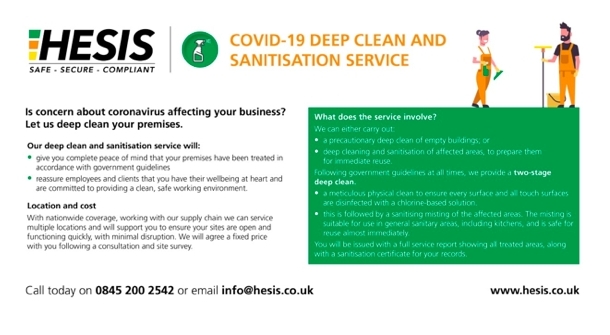 Is concern about coronavirus affecting your business? 
Let us deep clean your premises.
Our deep clean and sanitisation service will:
Give you complete peace of mind that your premises have been treated in accordance with government guidelines 
Reassure employees and clients that you have their wellbeing at heart and are committed to providing a clean, safe working environment. 
What does the service involve? 
We can either carry out: 
A precautionary deep clean of empty buildings;or 
Deep cleaning and sanitisation of affected areas, to prepare them for immediate reuse.
Following government guidelines at all times, we provide a two-stage deep clean.
A meticulous physical clean to ensure every surface and all touch surfaces are disinfected with a chlorine-based solution.
This is followed by a sanitising misting of the affected areas. This misting is suitable for use in general sanitary, including kitchens, and is safe for resuse almost immediatley.
You will be issed with a full service report showing all treated areas, along with a sanitisation certificate for your records. 
Location and Cost
With nationwide coverage, working with our supply chain we can service multiple locations and will support you to ensure your sites are open and functioning quickly, with minimal disruption. We will agree a fixed price with you following a consultation and site survey.
Call today on 0845 200 2542 or email info@hesis.co.uk