Managing Director of Gemini Print is taking part in the JAIL & BAIL fundraising for St Wilfred's Hospice!
Published: 04 Feb 2020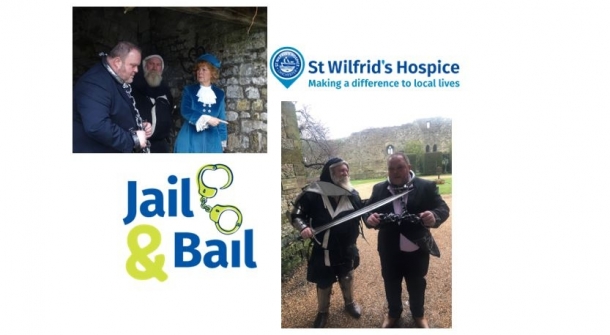 The MD of Gemini Print, Steve Cropper, was arrested at Angmering Castle. With the help of his wife Maxine, his colleagues reported him for a selection of heinous crimes to the High Sheriff of West Sussex Mrs Davina Irwin Clark and her chaplain Peter.
Steve is taking part in the JAIL & BAIL fundraising for St Wilfrid's Hospice stwh.co.uk that covers from the South Downs to the West Sussex and Hampshire coast.  An independent local charity which for over 30 years has been caring for and supporting those in our community who are in the last phase of their lives. 
High-quality specialist palliative and end of life care costs add up to £20,000 per day, so the small team need the support of everyone to ensure families gain the help they need.
On a cold grey day at Angmering Castle, Steve was captured and arrested by a powerful sword-bearing soldier and marched to stand in the dock at the medieval court.  The High Sherriff showed no mercy, so he was sentenced to be imprisoned on February 27th. 
To meet the conditions of the St Wilfrid's Hospice JAIL & BAIL event can you please help raise his jail bond?
Please click  https://www.justgiving.com/fundraising/Steve-Cropper4 - every £ raised will go straight to St Wilfrid's Hospice – and you can easily add Gift Aid too.
For anyone curious about the grim detail of his crimes your bail support will entitle you to interrogate him for a full confession (be warned, do not request a demonstration!). 
There are options to donate in other ways – if you have any questions, please contact Guard SH:marketing@gemini-print.co.uk or call 01273 086 206