MHA Carpenter Box - Investment & Tax Seminar
Published: 08 Jan 2020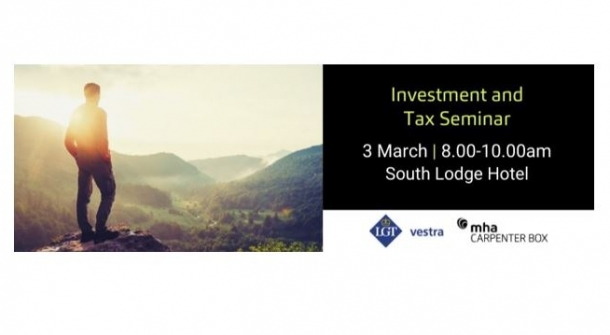 Date: Tuesday 3rd March 2020
Time: 8am - 10am
Venue: South Lodge Hotel, Horsham 
You have choices to make around the structure of your finances and investments, and those choices will have tax implications. However, the UK tax system is constantly changing and the best way to minimise the tax you pay is to be fully aware of your options before you finalise finance decisions.
This seminar will provide an overview of the current financial landscape and help you to make the right financial choices – for you and your family.
Topics Covered 
Financial, political and legislative landscape for investors
Different types of investment opportunities
How to make the most of pensions and ISAs
End of year tax planning tips
Basic tax checklist
Tax relief of investment schemes such as the EIS
Inheritance tax relief
The event will be a great opportunity to ask any questions that you may have about planning ahead for the tax year end. Breakfast refreshments will be available.
Places are limited, so book online today to secure your place.