MHA Carpenter Box Partner Wins Practice Pioneer of the Year
Published: 14 Dec 2020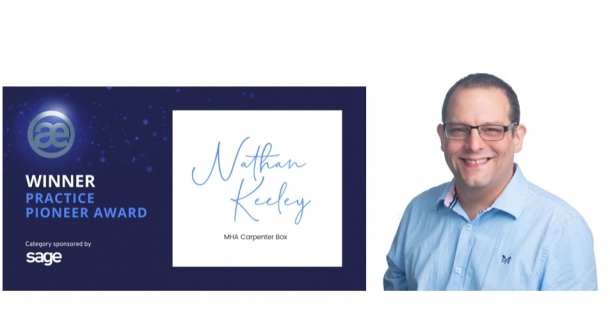 Nathan Keeley, Head of Cloud Accounting at Sussex-based MHA Carpenter Box, has been named Practice Pioneer of the Year at the national Accounting Excellence Awards ceremony held virtually due to the ongoing Coronavirus pandemic. 
The national awards recognise and celebrate brilliance across the British accounting profession, highlighting the achievements of individuals and firms. 
Nathan joined MHA Carpenter Box in 2001, became a Partner in 2010 and has driven innovation within the practice through the adoption of new and existing technologies. 
Nathan is one of the country's leading cloud experts and has strong relationships with the main vendors. He has significantly enhanced the firm's overall reputation, attracting additional clients as well as new specialist digital team members. He has also developed the cloud team's capabilities to undertake system reviews and software training for clients, adding value to their businesses. 
The judges were impressed by the fact that Nathan doesn't only drive change within a large organisation, but his work also genuinely influences the profession due to his extensive network, and opportunities to advise software providers. 
Nathan commented: "This is huge recognition for both myself and the firm and evidences the hard work that has been put in over the last few years. It would not have been possible without the support of the firm and the great team we have here at MHA Carpenter Box, so thanks and congratulations should really go to all of them. Using this as an endorsement, we will continue to strive to improve the firm to become the best that it can be and consequently benefit all of our staff and clients alike." www.carpenterbox.com