White Label Creative's DAILY BUSINESS BRIEFING FROM GOVERNMENT'S COVID-19 PRESS CONFERENCE 21/05/2020
Published: 21 May 2020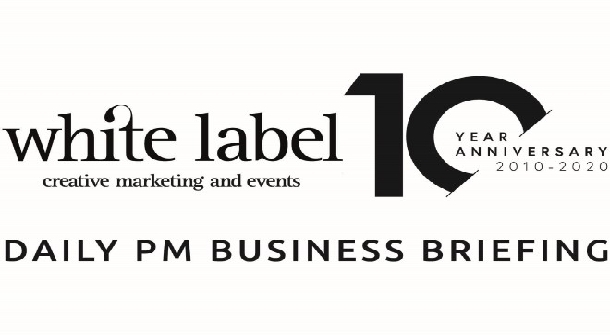 Culture Secretary Oliver Dowden has announced representatives from the arts, cultural and sporting worlds will join a new taskforce aimed at helping getting the country's recreation and leisure sector up and running again.
Speaking at today's Downing Street press conference, Mr Dowden said five new ministerial-led taskforces had been set up to develop blueprints for how and when closed businesses and venues could reopen safely.
He said: "We are determined to do all we can to help our sectors that are such an incredible part of British life in their recovery. The taskforce is made up of some of the brightest and best from the cultural, sporting and tech worlds. Experts in their fields, they'll be instrumental in identifying creative ways to get these sectors up and running again.
"I am confident that the drive and creativity which makes a great performance or a great piece of art will power recovery across these sectors, and we will appreciate them that much more."
The Culture Secretary also announced today that £150million from dormant bank and building society accounts is to be unlocked to help charities, social enterprises and vulnerable individuals during the coronavirus outbreak.
This includes accelerating the release of £71m of new funds from dormant accounts alongside £79m already unlocked that will be repurposed to help charities' coronavirus response and recovery.
The funding will support urgent work to tackle youth unemployment, expand access to emergency loans for civil society organisations and help improve the availability of fair, affordable credit to people in vulnerable circumstances.
Find out how to make your workplace COVID-secure; government business webinars
The government, in consultation with industry, has produced guidance to help ensure workplaces in England are as safe as possible during the coronavirus pandemic. Join a free webinar, hosted by the Department of Business, Energy and Industrial Strategy, to find out more about how to make your workplace COVID-secure.
The webinars cover a range of different types of workplace settings which are allowed to be open. Many businesses operate more than one type of workplace, such as an office, factory and fleet of vehicles. You may need to use more than one of the guides/webinars as you think through what you need to do to keep people safe.
Funding boost for hi-tech, innovative companies and start-ups
Innovative businesses and start-ups are set to benefit from a £40m government investment to drive forward new technological advances.
Business Secretary Alok Sharma announced today the government is doubling investment in the Fast Start Competition with an additional £20m.
The competition aims to fast-track the development of innovations borne out of the coronavirus crisis while supporting the UK's next generation of cutting-edge start-ups – helping to build the businesses of tomorrow and propel their future prosperity.
Among the successful projects to receive the funding to date, is a virtual-reality surgical training simulator and an online farmers' market platform. Innovate UK received a record number of applications – more than 8,600 to the Fast Start Competition and the additional investment means it will now be able to distribute investment to more than 800 of the projects which applied.
Executive Chair, Innovate UK, Dr Ian Campbell, said: "Businesses from all over the UK have answered our call rapidly to meet the challenges we face today and in the future through the power of innovation.
"The ideas we have seen can truly make a significant impact on society, improve the lives of individuals, especially those in vulnerable groups and enable businesses to prosper in challenging circumstances."
Homes England commissions research study to drive construction innovation
Homes England has commissioned its own research study into modern methods of construction to drive innovation in the construction industry.

Atkins and Faithful+Gould have been appointed as the agency's research and development partner for the project. More details are available here.
National Cyber Security Centre (NCSC) COVID-19 SME Guidance
NCSC has today published guidance to support businesses moving from physical to digital delivery as part of the ongoing COVID-19 response. The guidance has been created specifically to support businesses who are relying more heavily on IT services to run their business.
The NCSC is committed to equipping all UK businesses with the best cyber security advice. The support package includes guidance on home working, video teleconferencing and spotting email scams related to COVID-19. All additional and pre-existing guidance for business can be found on the NCSC webpage.
ADDITIONAL UPDATES AND GUIDANCE
£500m Future Fund opens for application
UK-based companies can now apply for a convertible loan of between £125,000 and £5m, to support continued growth and innovation in sectors as diverse as technology, life sciences and the creative industries and to help them through the coronavirus outbreak.

Apprenticeship programme response
Updated with information on training and assessing apprentices in line with the Government's new safer working guidelines, calculating wages for furloughed apprentices, off-the-job training, and redundant apprentices.
Working safely during coronavirus
Guidance to help employers, employees and the self-employed understand how to work safely during the coronavirus pandemic. New section added on the five main steps for businesses to take.
Horizon 2020 funding updated
Funding for research or innovation that's ground breaking, improves European research standards or responds to challenges like climate change or food security.
Coronavirus: letter to all postmasters
Letter from the Minister for Small Business, Consumers and Corporate Responsibility, Paul Scully, to all postmasters, their staff and Post Office employees.

Coronavirus guidance for Community Interest Companies (CICs)
The Office of the Regulator of Community Interest Companies (CICs) has robust plans in place to maintain services for CICs and protect the welfare of employees during the coronavirus outbreak.

Coronavirus outbreak FAQs: what you can and can't do
Frequently asked questions on what you can and can't do during the coronavirus outbreak have been updated.