Catfishing Against Cancer
Published: 10 Jun 2021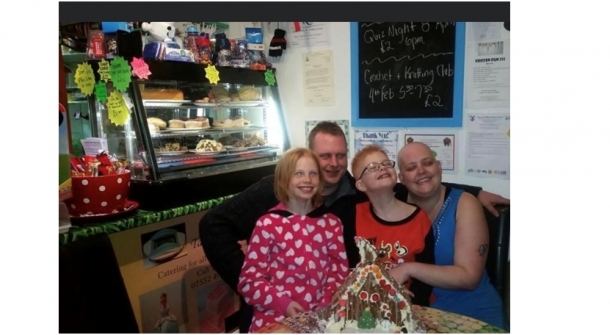 Catfishing Against Cancer will see 51 anglers camp out for four nights in June to catch as many catfish as they can in a bid to raise vital funds for their local hospice, St Barnabas House.
Dan Tully, from Worthing, has been taking part in the fundraising event for over four years now and is delighted that this year, the group will be raising funds for St Barnabas House, the hospice that cared for his wife, Laura, who passed away at the age of 35.
Dan and Laura met in a pub in Worthing in the early 2000s. "She had such a bubbly personality and was so caring" says Dan. "We had two children together, Chelsea, who is now 16, and Toby, who is now 14. Laura was dedicated to her kids; they couldn't have asked for a better Mum."
In 2015, Laura was diagnosed with Breast Cancer. "We went through a lot of hospital appointments and treatment, and Laura went into remission," says Dan. "About 18 months later, she started to have really bad pain in her back." After several hospital appointments, Laura was told the devastating news that her cancer had returned and that she only had three months to live.
"We pretty much went straight from the hospital to St Barnabas where Laura stayed and had all her treatments." Laura stayed at St Barnabas House for seven weeks, and throughout the seven weeks, the family had the chance to spend precious time together.
"The hospice and the team there were amazing. I often stayed the night in Laura's room, and the kids would come and visit in the afternoon.
"Whilst Laura was there, it was her birthday, and the staff went above and beyond for us to make it one to remember. We decorated the room and invited the family down to have a get-together. It was almost like a party. Days like that were only possible because of St Barnabas, days where we would just forget about everything else."
A few weeks after her 35th birthday, Laura sadly lost her battle with breast cancer and passed away at a nursing home. "But the care from St Barnabas didn't stop there. They kept in constant contact with us and offered us support. They helped me when it came to explaining to a seven and nine-year-old that their mum had passed away. The amazing team made the worst and hardest time of my life just a tiny bit easier.
"St Barnabas means everything to us, there's no way we would've coped without them. And I know that Laura would love that we are raising funds for the hospice. Whilst she was being cared for by them, she always spoke about the fundraising she'd like to do, but she was always too ill. So, this year, I'm proud to be raising funds for them in her memory," says Dan.
Catfishing Against Cancer is aiming to raise over £5,000 for St Barnabas House. But Dan has given them an incentive to raise even more, "if we can raise £10,000 as a team, I will shave my beard off – people will see my chin for the first time in years!"
To support Dan on his fundraising, please visit: www.justgiving.com/fundraising/dan-tully8