Cleankill's Gold renewal proves dedication to staff
Published: 09 Mar 2021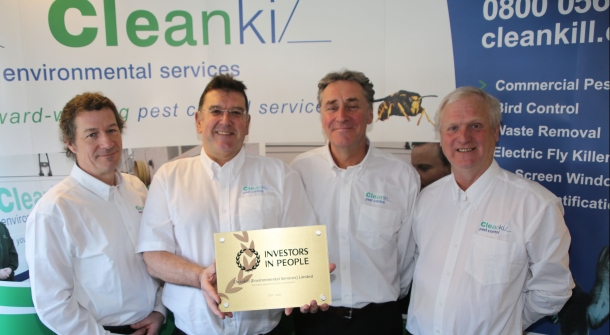 Cleankill Pest Control is celebrating after retaining its Investors in People Gold Award gold accreditation.
Gold accreditation demonstrates that Cleankill has a full range of important policies in place and that everyone in the company takes ownership for making them come to life.
Only 17% of the Investors in People accredited organisations achieve Gold. In 2018 Cleankill became the first pest control company in England to be certified 'GOLD' by Investors in People and in 2021, following another intensive audit, retained the Gold status.
Now with a turnover of more than £3 million and employing 50 staff, Cleankill has won a string of awards for being 'green', customer service and corporate social responsibility as well as being named Company of the Year in the 2019 British Pest Management Awards run by the British Pest Control Association.
Commenting on the award, Cleankill Managing Director Paul Bates, said: "Retaining our Gold status was not a given and we had to demonstrate that we are constantly improving.
"We believe that the success of our organisation begins and ends with our people. If we make work better for everyone, we make work better for our customers."
In her report the Investors in People assessor said: "Your USP and strengths lie in being open and honest, demonstrating integrity and you have successfully created that family atmosphere, certainly not corporate, there is no us and them and this attitude comes from the top.
"100% of interviewees said they would recommend Cleankill as a great place to come and work and are real ambassadors for Cleankill. People can describe why they think Cleankill is a great place to work and they are proud to say they work for you."
Paul Devoy, CEO of Investors in People, said: "We'd like to congratulate Cleankill Pest Control. Gold accreditation is a fantastic effort for any organisation and places Cleankill in fine company with a host of organisations that understand the value of people."
Launched in 1995, Cleankill Pest Control has grown year on year and now has several thousand clients throughout London, Bristol, Buckinghamshire, the South East and across the UK. The company's head office is in Croydon, Surrey, and it has offices in East Sussex, Bristol and Buckinghamshire.