COVID-19 Vaccine Update No 10
Published: 06 Apr 2021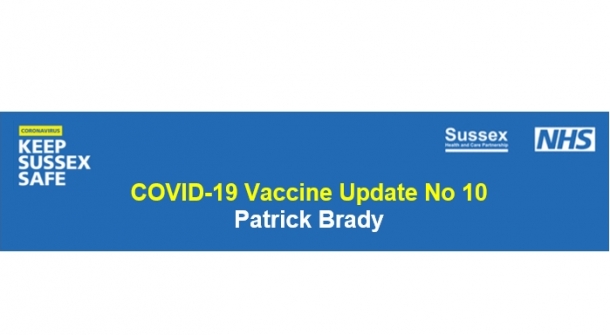 Infection Rates
In the seven days to Saturday 20 March there were 271 new cases. In cases among those aged 60+ there were 39 new cases.
You can get information on the infection rates in your area by visiting our West Sussex COVID-19 Data Dashboard.
Calling those eligible who are yet to have their jab
Today, we are urging anyone in the nine priority groups who has not yet had their vaccination to come forward and book their appointment. Our vaccination programme has made strong progress and more than 900,000 vaccinations have now been delivered across Sussex.
However, we know that there are just over 138,000 people who are in the eligible priority groups and are yet to have their vaccination.
If you are aged 50 and over, are clinically extremely vulnerable, have an underlying health condition, or are an unpaid carer - you are eligible and you can arrange your appointment today.
There are appointments tomorrow at the vaccination centres - book now online or via 119. Alternatively contact your local vaccination service to arrange an appointment.
Second dose appointments get underway
Vaccination services across our area are starting to arrange second dose appointments as people approach 12 weeks since their first vaccination.
The first dose of both the Pfizer BioNTech and Oxford AstraZeneca vaccine offer good levels of protection, but to get maximum protection from COVID-19, everyone will need to get a second dose.
We are therefore urging people to come forward for their second dose of the vaccine when they are contacted or if they have an appointment booked.
Vaccination experts recommended that people receive their second dose around 12 weeks after their first.
If you have arranged your appointment through the national booking service, you are likely to have booked your first and second appointments at the same time. If you have booked online you can remind yourself of your place and time of your vaccination using the 'manage my appointments' section on www.nhs.uk/covidvaccine.
If you had your vaccination at a GP led local vaccination service you will be contacted as your approach the 12 week mark. Please don't worry you will be contacted when it is time for your appointment.
Second doses of the COVID-19 vaccination delivered to residents in care homes 
Care home residents and staff began receiving their second doses of the COVID-19 vaccine this month. 
Vaccination teams from GP-led services and Sussex Community NHS Foundation Trust, as at 28 March 2021, 4,391 care home residents (37.9 per cent) have received their second dose vaccination.
Nearly all care homes in Sussex now have a planned date for a second visit from the vaccination team, so residents and available staff who had their first vaccine in the care setting, can receive their second dose. The remaining homes are currently being scheduled in and will be contacted very soon.Second doses are being scheduled up to twelve weeks after the first. Care home residents and staff were among the first in Sussex to receive the vaccine earlier this year, after being identified in the top priority groups by the Joint Committee on Vaccinations and Immunisations, due to their high risk from COVID-19.
Some care homes are also receiving a second visit from vaccination teams for first doses, in cases where a number of residents were unable to have their vaccine initially (due to illness or absence because of hospital admission, for example). As at 28 March 2021, 11,158 (96.4 per cent) of care home residents in Sussex have received their first dose vaccination.
Alongside the continuation of the delivery of the vaccine into care settings in Sussex, the NHS continues to vaccinate care staff. Anyone in these roles who has not yet received a first dose, is urged to book a vaccine appointment now.
Watch this film as care home workers from across our area share why they have had their vaccination: https://www.youtube.com/watch?v=MQYwg_ilA3k&feature=youtu.be
Care homes are now open for visitors but there are steps you need to take to protect yourself and those around you.
Listen to our latest podcast with Dr Claire Lehman, Consultant in Public Health at WSCC, to find out how to visit your loved ones safely. 
Listen to the podcast on Soundcloud
Learning Disabilities
Here is a link to a Learning Disability video, please can you share as needed.
Sir Lenny Henry writes an open letter to encourage people to have their vaccination
Sir Lenny Henry has written an open letter urging black Britons to take the Covid-19 vaccine.
The comedian and actor said people should "trust the facts" and guard against misinformation.
The letter has been signed by high-profile figures such as actor Chiwetel Ejiofor, YouTube star KSI and actress Thandie Newton.
Crawley local vaccination service opens dedicated unit
Saxonbrook Medical Practice in Maidenbower, Crawley, has opened the doors to its dedicated vaccination unit. The purpose-built vaccination unit provides safe access to vaccinations, for the benefit of patients across Crawley and will be able to accommodate various vaccination clinics separate to the practice's day-to-day GP services.
The vaccination programme at Saxonbrook is being led by GP Dr Hicham Nakouzi supported by practice staff. Dr Nakouzi said: "We are delighted to offer the new Saxonbrook COVID-19 Vaccination Centre to our community. To get the site to this stage so quickly has taken huge dedication from the team and we look forward to using the space to make a significant impact in the local community."