COVID-19 Vaccine Update No 22
Published: 22 Jun 2021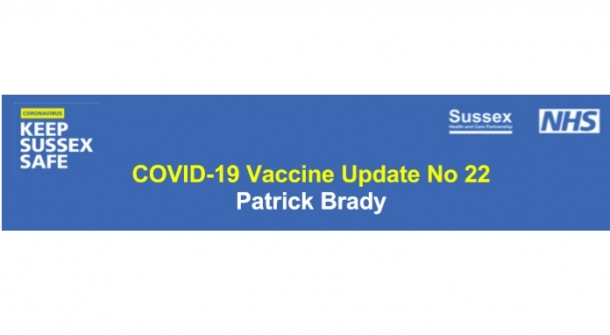 Sussex Local NHS urges people not to delay second doses 
As the largest ever NHS vaccination programme enters its final stages, the local NHS is urging local residents to come forward for their first vaccination and remember to get their second dose. The plea comes as people aged 21 and over become eligible today, Wednesday 16 June, and all adults aged 18 and over will be eligible for the lifesaving jab by the end of the week. Also, people aged 40 and over are now able to have their second jab from eight weeks after their first – moving it forward from the original 12-week period. This extends the group after people aged 50 and over were able to do this last month. If you have booked your appointments through the national booking system, from today you can use the website or call 119 to move your second dose forward. If you had your first vaccination from a GP led team, you will be contacted as quickly as possible to rearrange your second dose. Whether you are moving it forward, or have an appointment booked, everyone is urged to attend their second dose appointment. Research this week showed how important the second jab is at protecting people against the Delta/Indian variant.
Studies have found the Pfizer-BioNTech vaccine to be 96% effective against hospitalisation after two doses, while the Oxford-AztraZenaca is 92% effective. To date more than 1.1 million people in Sussex have received their vaccination, and more than 800,000 have had both doses. We want to encourage everyone who is eligible to come forward and book your first dose if you not had it yet. With all adults becoming eligible by the end of this week, the time is now to book your appointment with slots available across our vaccination services next week. It is also vital that everyone makes sure they receive their second dose. If you are contacted to bring forward your second dose appointment, I would urge you to do this as soon as possible, as getting both doses is what will give everyone the maximum possible protection against COVID. The vaccine is our most effective shield against the virus and there has never been a more important time to get protected.
More information about the Sussex COVID-19 Vaccination Programme and how you can get your jab: Sussex COVID-19 Vaccination Programme | Sussex Health & Care Partnership (sussexhealthandcare.uk)
Vaccine for under 40s now available in Chichester 
From today, Wednesday 16 June, vaccinations for people aged under 40 are now available in Chichester.
The Westgate Vaccination Centre, run by Sussex Community NHS Foundation Trust, has been open since 18 February 2021 and to date has delivered close to 100,000 vaccinations. In line with vaccination centres across the country, it was initially supplied with the Oxford AstraZeneca vaccine to offer people their jab as quickly as possible across the local community. Following national guidance, people under the age of 40 should be offered an alternative vaccine to the Oxford AstraZeneca.
To make sure people in and around Chichester can therefore book their COVID-19 vaccine and receive the vital protection, the Westgate Vaccination Centre has been extended and is now able to offer both Pfizer and Oxford AstraZeneca vaccine.
The first vaccinations with the Pfizer vaccine are taking place today.
From this morning, people aged 21 and over are now eligible to book their jab through the national booking system – either online or by calling 119 – and the local NHS is calling for everyone who is yet to have their vaccine to book it as quickly as possible. Booking via the national booking system will show you all available appointments in your local area with the vaccine recommended for you.
If you can't see any local appointments, the NHS encourages people to keep trying as more appointments are being added constantly in line with vaccine supply.
Wealden
For Covid-19 vaccination to people living across the Wealden area, the vaccination service at Saxonbury House Surgery is now calling for anyone who is yet to have their jab to come forward. The service is now available on the national booking system, which means that you can book your appointment at Saxonbury through the booking website – nhs.uk/Covid-vaccine or by calling 119. It is really simple and can be completed in a few minutes – booking both first and second dose appointments. The team has three sessions running this week with more than 900 appointments available. Everyone aged 23 and over is now eligible for their vaccine from this morning. By using the website or calling 119 you will be shown appointments at the right session for you, so that you receive the recommended type of vaccine for you. If you can't see any appointments at Saxonbury, please don't worry, more appointments will be added for more sessions each week as soon as the vaccine delivery is confirmed. The sessions next week are now being confirmed in line with the vaccine supply. Please just try back a little later. As the weather heats up, the NHS is urging people not to forget about their Covid-19 vaccination. With cases of the Delta variant being seen across the country, it is really important that all adults receive this vital protection, both for you and your community. Currently second dose appointments for anyone aged 50 and old, those with a longterm health condition and carers are taking place at 8 weeks. Anyone younger that 49 will currently have their second appointment at 11-12 weeks. Please make sure you remember your appointment and attend so you can receive the highest level of protection.