Creative Pod take on former Brighton and Hove Albion player as their latest Business Development Specialist
Published: 14 May 2021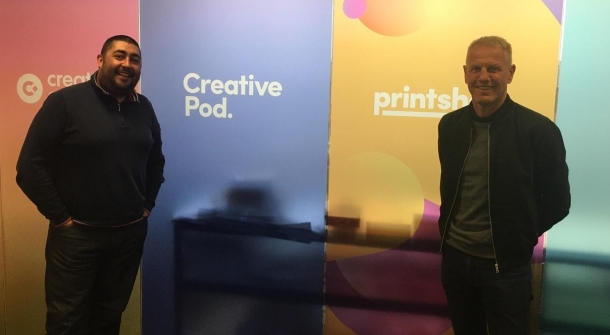 Ex Brighton and Hove Albion Captain, Paul Rogers, is the latest addition to award-winning marketing agency's ever-growing team, Creative Pod. Paul's company Cube Consulting is partnering with Creative Pod to assist the teams' capacity with Business Development.
Part of The Creative Group, Creative Pod have taken on seven new employees over the last year during one of the worst economic climates in history, and they are currently looking for another Marketing Executive to join the team.
Paul Rogers was previously a professional football player for over eleven years, playing across all four divisions until retiring in 2003, Paul continued to work at Brighton and Hove Albion for many years though, first as a Sales Manager, before being promoted to Commercial Manager five years later in 2008 and heading up the Commercial Team through the move to the Amex Stadium. Paul now has almost 20 years' experience in the Sales and Marketing industry.
Back in 1992, Paul left his career as a Commodities Broker in London and his place in Sutton United's non-league football club after landing a deal with Sheffield United. Developing an established name in the professional football industry over the years, he joined Brighton and Hove Albion in 1999 for four years, captaining the team to consecutive league titles in 2001 and 2002 until he announced his retirement from professional football in 2003.
Paul said "Assisting Creative Pod to help support them with Business Development is a great partnership for me and I'm sure the start of exciting things. When Matt and I started talking about business prospects, I knew our goals were well aligned and working together could create many benefits for both of us. I'm very grateful to have joined such a dynamic team and can't wait to get started."
As we near the halfway point of 2021, it's been a great year so far for Creative Pod, with the acquisition of many new clients, as well as their recent award win at the County Business Club Awards in the 'Sales and Marketing' category.
CEO and founder of Creative Pod, Matt Turner, explained "I'm really pleased to have Paul as the newest member of the team. As a company, we're always looking for new ways to expand and better ourselves; I always find that introducing a new member to the team keeps us on our toes which is what sparks great ideas. This will open up a lot of doors for the company and it'll be great to see where this new business relationship takes us. Welcome aboard Paul!"