Cycling the length of the UK in memory of Dad
Published: 13 Aug 2021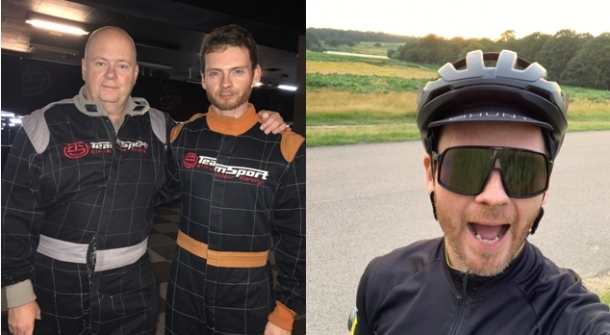 Scott Herrington, 34, from London, has set himself the mammoth challenge of cycling from Land's End to John O' Groats in memory of his Dad, Frank.
Setting off on Saturday 21 August, Scott, accompanied by two friends, have allowed themselves 10 days to cycle the iconic route which covers the entire length of the UK. In total, they will cover around 1,000 miles and climb more than twice the height of Mount Everest.
While taking on this endurance challenge, which includes riding through Cornwall, the Yorkshire Dales and The Scottish Highlands, Scott said his main motivation is knowing that he's raising vital funds for a cause that's very close to his heart, St Barnabas House.
In 2019 at the age of 57, Scott's Dad, Frank was diagnosed with terminal cancer and told he had just six weeks to live. "I remember when Mum and Dad sat my brother and I down and told us his recent cancer diagnosis was terminal," Scott said.
"I'll always consider that day the saddest day of my life, but when I recall it, I've little sense of sadness. The overwhelming feeling I remember is that of pride. A warm, belly-bursting type of pride. As he shared the doctor's prognosis with us, he showed no anger or despair, and nor did he show self-pity.
"When someone tells you their time on earth is coming to an end and they react with such strength, bravery and absolute selflessness, the feeling of humbleness is hard to describe. To be genuinely awed by my father is a feeling and memory I'll treasure forever."
When Frank received his diagnosis, he wanted to spend as much time as he had left with his wife of 35 years, Susan, and sons, Scott and Shane. "Because of St Barnabas House, Dad didn't have to go into a hospital, he could stay at home where he was most comfortable. We had a Nurse come in a few times a day to care for and support Dad. But St Barnabas House wasn't only there for my Dad, they were there for my Mum too as her world was being ripped apart. The support and care they provided went above and beyond anything we expected."
Speaking about his Dad, Scott said, "He was an amazing husband, a great friend and a fantastic Dad. I'm doing this challenge in his memory to raise money for an amazing charity so that they can continue helping others who find themselves or a loved one in a similar situation."
To support Scott in his cycle challenge, please visit www.justgiving.com/scott-herrington1