FOUNDATION SUPPORTS YOUNG PEOPLE THROUGH THE PANDEMIC WITH VIRTUAL PROGRAMME
Published: 28 Jan 2021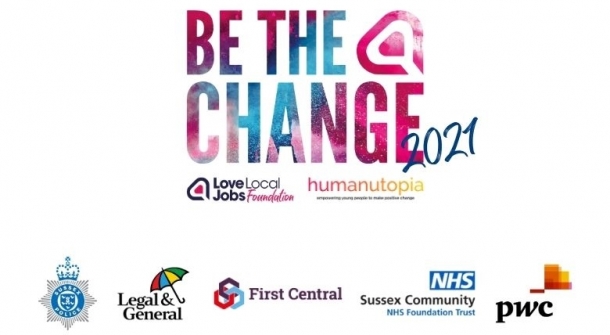 The LoveLocalJobs Foundation C.I.C is to offer their 2021 'Be the Change' programme to young people in a virtual format, for the first time since the programme was launched in 2015. 
Be the Change is an inspirational programme aimed at helping students who may face challenges and difficulties to realise their full potential. The programme focuses on happiness, confidence, hope, relationships and employability and encourages students to identify their personal barriers to success, before helping them find ways of overcoming them. 
The virtual offering coincides with the reintroduction of home-schooling, amid a crisis that has seen young people experience more severe stress and anxiety than in previous years. Sponsored by a plethora of leading local employers, the programme is set to make its biggest impact to date. Supporters of the programme include Sussex Police, Legal & General, First Central, Sussex Community NHS Foundation Trust and PwC.
Business representatives from organisations across the local area have been invited to participate in the programme as business guides and positive role models – they will be sharing their experiences and stories regarding their lives and career journeys on virtual tables, as well as encouraging the students and listening to their day to day struggles.
The need for a programme such as this is greater now than ever, as is the drive to support the local community. The LoveLocalJobs Foundation C.I.C remains committed to supporting young people from the area and is stepping up to support their futures, at a time when they need it most.
"We are incredibly excited to be able to hold our 'Be the Change' programme in a virtual format. In the midst of a year unlike any that's come before, and with schools closed, there really is no better time for young people to be inspired and learn from those who are leading through disruption, confusion and turbulence. We continue to give everything we can to energise, accelerate and support young people in our local area, at a time where the need for this programme is greater than ever before." said LoveLocalJobs Foundation Founder, Gary Peters.
The LoveLocalJobs Foundation 'Be the Change' virtual launch conferences will be taking place across 2nd, 3rd and 4th February. Visit https://www.lovelocaljobsfoundation.com/be-the-change to learn more.