Kreston Reeves strengthens its Corporate Finance team with director and analyst appointments
Published: 09 Mar 2021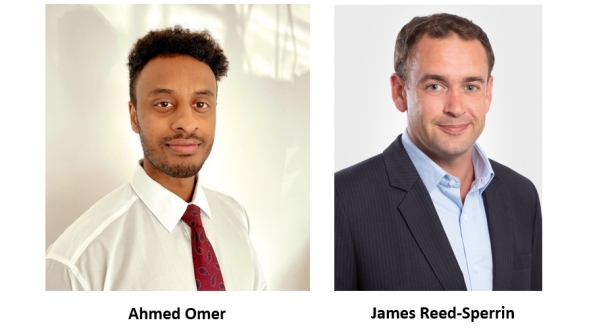 Accountants, business and financial advisers Kreston Reeves has today announced the appointment of Director James Reed-Sperrin and Corporate Finance Research Analyst Ahmed Omer, strengthening its award-winning Corporate Finance team.
James joined the firm on 3 February from Saffrey Champness where he was a director in its corporate finance team. He has previously held senior roles at BDO and EY. Ahmed joined the firm on 8 February.
The appointments of James and Ahmed follow continued growth in demand for high-level corporate finance support from the team at Kreston Reeves. Pipeline is strong and recent enquiries have included AiM and Euronext IPOs, pre-acquisition FDD, fundraisings for future growth and M&A activity.
James brings considerable experience and a strong track record in leading deals including MBOs, acquisitions, disposals, joint venture, refinancings, carve-outs and listings on AIM and the Main Market.
He guides his clients, including SMEs, larger listed companies and private equity investors, through complex financial due diligence, vendor due diligence and reporting accounting services.
Commenting on his new role, James said: "Kreston Reeves has a terrific reputation in the market for its strong corporate finance practice, working with investors, business owners and larger acquiring companies. This is a great move for me, and I look forward to contributing to the continued growth of the team."
Jack Clipsham, Partner and Head of Corporate Finance at Kreston Reeves said: "The demand for corporate finance support from investors and businesses is strong and is likely to continue to grow as the year progresses. We are thrilled by James' and Ahmed's decision to join our team; they are both integral to the team's future development and I'm looking forward to working alongside them."
Kreston Reeves' Corporate Finance team is shortlisted in the annual South East Dealmakers Awards for 'Deal of the Year (under £10m)'. The award winners will be announced in June 2021.
Kreston Reeves Corporate Finance team is looking for further talented people to join its team, currently recruiting for a senior manager to work from its London office. To find out more, visit https://lde.tbe.taleo.net/lde01/ats/careers/v2/viewRequisition?org=REEVES&cws=38&rid=561.