Local business donates services to children's hospice
Published: 15 Sep 2021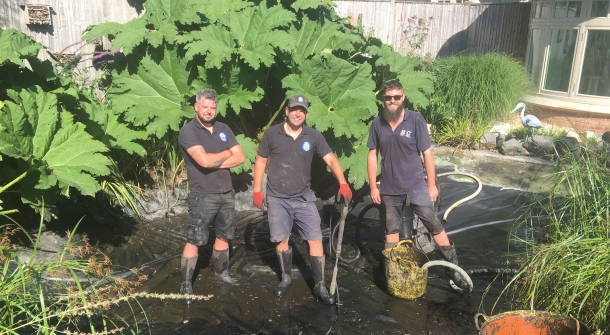 Sussex Pond Doctor have kindly donated their time to local children's hospice, Chestnut Tree House, saving the charity over £1,800.
The pond, which is located at the front of the children's hospice, is a place of tranquillity, where parents, carers, and children often go to relax and escape. It is also home to many different species of wildlife.
The pond needed some work done to it, and Sussex Pond Doctor, a family ran business located in Worthing, kindly stepped in to help, saving the charity over £1,800. "The pond was extremely choked up with many years of plant silt and fish waste. The lilies and plant margins were also extremely overgrown. There was also a slow leak on the pond, so we wanted to check over the liner and carry out repairs if possible," explains Doug at Sussex Pond Doctor.
"When Chestnut Tree House reached out to us about the pond, we didn't hesitate to offer our services free of charge to assist the charity. At Sussex Pond Doctor, our goal is to make a mark in the community. We have tried to actively help community ponds, recently donating our time to renovate the pond at Marine Gardens in Worthing. As well as work on the ornamental pond at the Preston Park Walled Garden, Brighton. So when we were contacted by Chestnut Tree House, we jumped at the chance to offer our services to try to help out."
Reflecting on their time at the hospice, Doug said, "Whilst it was pretty grueling work, we were lucky enough to be joined by the hospice gardeners who mucked in to help get the job done. Whilst carrying out the job, we noticed that the pond had no filtration at all, which we feel it would benefit from. We are now looking at ways to raise the funds to be able to donate a filtration setup for the pond - which we will be installing free of charge of course!"
Highlighting the value of support like this from local businesses, Charlotte Waring, Community Fundraising Manager said: "Whatever the season, many of our children and families love being outdoors and our gardens are a really important part of Chestnut Tree House and the care we provide. Our gardening team do an amazing job keeping everything looking great, but sometimes we need external help for specialist jobs. We're so grateful to Doug for generously donating Sussex Pond Doctor's services free of charge. Children's hospice care is only possible thanks to the ongoing support of individuals, groups and businesses in our local community, so thank you."