Making stations sustainable – GTR supports local wheelers, wildlife and workforces
Published: 09 Sep 2021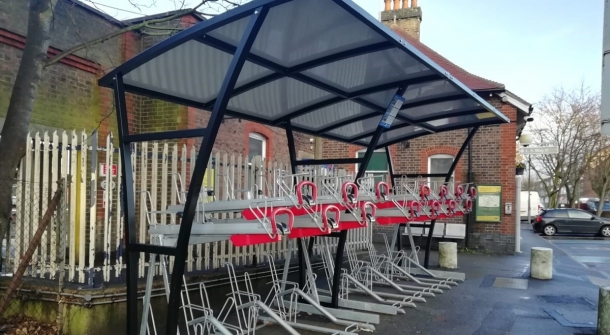 over 1,000 new cycle parking spaces for GTR passengers – enough for every competitor in five Tours de France!
90 landscaping projects include 19 bee gardens and nine wildflower areas
young local people gain horticulture training and qualifications at 18 stations
Southern, Thameslink and Great Northern passengers returning to rail are now using more sustainable and environment-friendly stations, with new features such as cycle parking, electric vehicle charging points, water management systems, and even bee gardens.
The train operators' parent company Govia Thameslink Railway (GTR) is encouraging more passengers to get on their bikes between home and station by installing over 1,000 new cycle parking spaces. A further 250 spaces have been replaced with upgraded modern facilities.
Customers at more than 50 stations, from Littleport in Cambridgeshire to Bognor Regis in West Sussex and Appledore in Kent, can take advantage of the new cyclists' amenities as they resume rail travel.
The additional provision at these stations varies widely according to demand. While some quieter stations have just four or six new spaces, Bexhill's new bike hub has storage for 70 bikes, CCTV, a maintenance area and free access using Thameslink's 'Key' smartcard.
GTR has funded most of the projects through its network-wide, multimillion-pound improvement programme. Facilities at ten stations were funded by the Department for Transport's Cycle-Rail fund, managed by the sustainable transport charity Sustrans. These include the schemes at Bexhill and four other East Sussex stations, which were further supported by the County and District Councils. At Denmark Hill's 85-bike hub in South London, two nearby NHS hospitals topped up the Government funding. In return, a tenth of the spaces will be reserved for hospital employees.
The government fund aims to improve cycling facilities at stations, promote economic growth, improve journeys, and encourage environmentally-friendly 'active travel' to cut carbon and improve health.
Sarah Leeming, Interim Director for south of England at Sustrans, said: "Combining walking and cycling with rail helps people reduce their reliance on the car and makes for healthy journeys. The shift towards more sustainable modes of transport can also go a long way to alleviating congestion and air pollution in our towns and cities."
Tom Moran, Managing Director for Great Northern and Thameslink, said: "We're making stations more sustainable, valuable assets for the communities they serve, with improvements local people have told us they want.
"We've added over 1,000 secure spaces for bikes - enough for every competitor in five Tours de France! We're confident that this will encourage even more customers to take up healthy travel that's good for the environment.
"We're proud to be working across our network with charities, local authorities, the NHS and many other partners, to support the post-lockdown recovery – building back better and greener."
To support sustainable transport combinations further, GTR have installed 39 new electric vehicle charging points, including 12 at Haywards Heath in West Sussex.
All 235 GTR stations now have a smart water meter. Constant monitoring and leak alerts could save an estimated 40 million litres a year – enough to fill 130,000 baths or make 174 million cups of tea!
Among more than 90 landscaping projects in GTR's programme are the 're-wilding' of nine areas using wildflower turf - another water-saving measure - and 19 'bee gardens', with plants chosen to attract pollinating insects. Most have been created by the Eastern and London regional branches of the community and environmental charity Groundwork Trust.
For its 18 station projects in the Capital, Groundwork London have recruited young local unemployed people to form a "Green Team" who undertake formal training to gain a City & Guilds horticulture and employability qualifications, and get dedicated job-search support.