Messing with the Awards
Published: 17 May 2021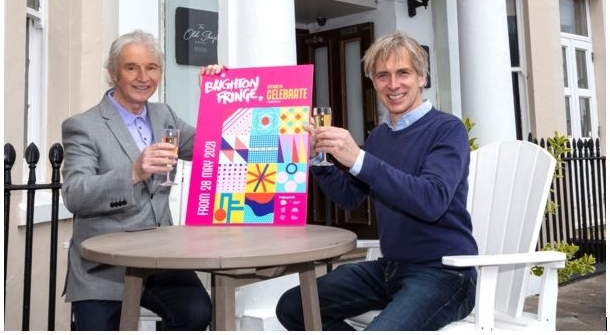 It is that exciting time again when all creatives, producers, performers, and venues involved with the Brighton Fringe are invited enter the DESIGN for PRINT Award.
In the breezy May sunshine, the Director of the Brighton Fringe Julian Caddy and Mark Tulley, Group Sales Director of the Gemini Print Group met to launch the 2021 awards.  The team at the Old Ship Hotel were delighted to welcome everyone to the Mess Deck bar area and are excited about the arrival of guests ready for the start of the Brighton Fringe on Friday 28th May. Old Ship Hotel Sales Manager Carol Whitney told us "the hard work of everyone at Brighton Fringe is welcomed by the hospitality and business sector".
Mark said, "the Gemini Print Group are delighted to be the official Print Partners to the Brighton Fringe again.  The DESIGN for PRINT Awards embraces their strategy of 'Culture, Collaboration and Community' and celebrates the importance of creating promotional materials that have impact and gain response.   It is wonderful to see Julian and his fantastic Fringe team return with an exciting new programme of performances and arts events for all to enjoy in our amazing City".
Following the success of 2019 that attracted thousands of people to engage in judging the awards the Gemini Print team is inviting everyone to view the Gallery on gemini-print.co.uk/fringe and cast their votes.
The winner will be announced at the Brighton Fringe closing ceremony Sunday 27th June.