South London station partnership presents marvellous marble run
Published: 01 Apr 2021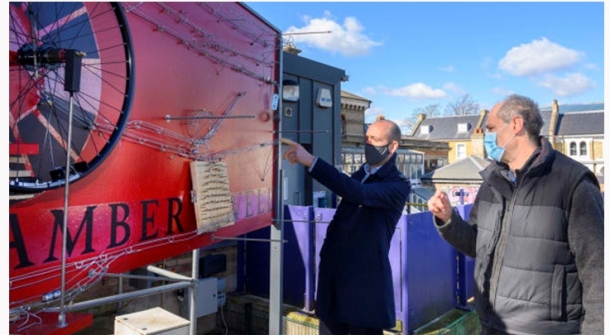 Inventive public art on show at Denmark Hill station
Camberwell Society and Thameslink to stage a series of quirky sculptures on 'partnership plinth'
GTR is showcasing local artists at thirty of its stations in a network-wide 'ambience' improvement programme
Passengers and passers-by can pause at Denmark Hill station to enjoy a quirky work of public art, thanks to a partnership between the Camberwell Society and Thameslink.
The partners built a plinth on spare ground alongside the station to display curiosities and sculptures by local artists. The Society has now installed a mazy mechanical marble run on the plinth.
The marble run is the work of artist-inventor Nick Mair, Chair of the Camberwell Society. The community group will source further sculptures from local art colleges to present a regularly changing local attraction.
Nick said: "It has been wonderful how many people have stopped to chat – socially distanced! –and then carried on their journeys with smiles on their faces. It's especially wonderful to see the fascination children have shown as they watch the marbles roll along the track and get lifted back up."
The 'partnership plinth' has lighting and a low-wattage power supply for mechanical artworks. It is one of over 1,000 projects, at more than 250 stations, in a multimillion-pound improvement programme by Thameslink's parent company Govia Thameslink Railway.
Tom Moran, Managing Director for Thameslink and Great Northern, said: "We're working across our network to make stations more attractive, comfortable and sustainable. We've commissioned artists, community groups and schools to liven up thirty stations with unique artwork inspired by their local area. Hugely talented artists across the region are coming forward with paintings, photographs, murals and mosaics.
"The Camberwell Society's fabulous marble run here at Denmark Hill is probably the most inventive and enchanting so far. By working with local partners like this, we can really make our stations valuable assets for their communities."
The Society worked with Thameslink on another prominent artwork at Denmark Hill, the 'Camberwell' mural painted on the nearby road bridge last year.
The community art will complement a major station expansion project being undertaken by Network Rail. This £7.5 million scheme, scheduled for completion this summer, will create a second entrance on the north side of the station. Thin-film solar cells on the roof will generate enough energy to make the whole new building carbon neutral. The scheme also includes additional platform canopies, seats and information screens, and 85 new cycle parking spaces.
www.southernrailway.com, www.thameslinkrailway.com, www.gatwickexpress.com, www.greatnorthernrail.com