Sussex hospices working together
Published: 29 Sep 2021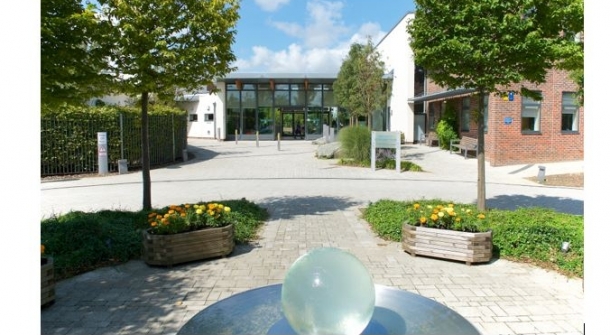 Providing the best quality of care is at the heart of everything hospices do, which is why the team at St Barnabas House in Worthing are delighted to be part of Project ECHO Sussex Hospices, working with other hospices to engage with and support care homes – sharing expertise to help with end of life care training.
Marcelle Palmer at St Barnabas House said, "We're delighted to be working with other Sussex hospices on this important project. Ensuring people receive the best quality of care at end of life is so important to all of us at St Barnabas, and we hope that sharing our knowledge and providing support will help care home staff feel more confident in delivering that care."
Project ECHO (Extension of Community Healthcare Outcomes) grew out of one doctor's vision to share knowledge and skills. Launched in 2003, the international movement and methodology uses technology, training, and guided mentoring to empower people with the knowledge and support they need to reduce human suffering, ultimately providing better and more timely care. 
In 2019, seven hospices in Sussex – including St Barnabas House in Worthing – formed a collaboration to engage with and support care homes across Sussex. Project ECHO Sussex Hospices was formed and identified as:
"a unique opportunity to work collaboratively to increase collective reach between hospice and care home staff and enhance the quality of care experienced by significantly greater numbers of people who die in care homes across Sussex."
The knowledge-sharing network aims to engage with and support care homes in the area – sharing expertise to make sure people in local communities, across different healthcare settings, receive the best possible care at end of life. 
Following some delays due to COVID-19, the project started in earnest in June 2020. The first few months were spent creating and agreeing the structure and roles within a cohesive and sustainable working alliance, and the first Project ECHO Sussex Hospices distance-learning training event was held in February 2021. It was attended by staff from eight care homes across Sussex, with a recording available for those who were unable to attend on the day.
"As well as empowering people, it's also hoped that this collaborative work between hospices and care homes will provide long-term cost savings resulting from less ambulance call-outs and unnecessary hospital admissions," says Marcelle Palmer.
"Project ECHO is a wonderful demonstration of collaboration in practice, amplifying local donations by increasing efficiency. By sharing our knowledge about palliative and end of life care with this 'learning loop' approach we are helping care homes to improve the quality of care they can offer while also learning about ways we can improve how we work together."
The seven hospices involved in Project ECHO Sussex Hospices are: