Sussex to Switzerland: Cycle and climb challenge for children's hospice
Published: 22 Jul 2021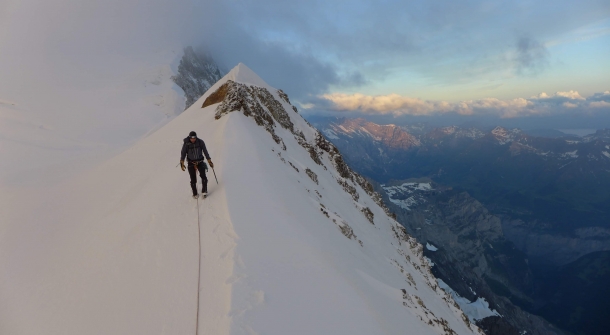 Last spring, Loren Charlton was part of a team of 12 from Barclays who climbed 24 miles on their stairs at home when they had to cancel their plans to climb the Yorkshire Three Peaks to raise money for Chestnut Tree House. Fast forward a year, and the Business Development Manager has a new fundraising challenge planned – cycling 750km from Eastbourne to Switzerland, and climbing two mountains in Switzerland, the Matterhorn and the Eiger – all to raise vital funds for his local children's hospice, Chestnut Tree House.  
"This is a challenge of a lifetime and I've chosen it for three reasons," explains Loren. "Firstly, and most importantly to raise vital funds for Chestnut Tree House. It is an amazing charity that supports children with life-shortening conditions and their families. Like many other charities, their fundraising income has been dramatically affected by the COVID-19 pandemic and I want to do my small bit to help. I'm a dad myself, so supporting a charity like Chestnut Tree House is really important to me."
Loren hopes to raise £1,000 for Chestnut Tree House and as the trip is self-funded, all donations will be going to support local children and young people who need hospice care.
"As well as taking on the challenge to support Chestnut Tree House, I'm also doing it for my love of cycling. Finally, the mountains have been on my radar for several years and I'm determined to climb them. I attempted it in 2019 but was beaten by thunderstorms, deep snow and sheets of ice which left both mountains unclimbable. I'm hoping the weather will be on my side this time!"
Loren's training is well underway, and he is constantly adjusting his plans to ensure that he adheres to current Covid-19 guidelines.
Alison Taylor, Fundraising Manager at Chestnut Tree House children's hospice explains what support like Loren's means to the charity: "The last year has been difficult for everyone, but especially the children and families we care for, many of whom have been shielding for long periods due to the COVID-19 pandemic. Ensuring we can continue providing them with the care and support they need, while keeping people safe, has been our top priority. But that has only been possible due to the incredible ongoing generosity and support from individuals and businesses in our local community.
"We're so grateful to Loren for taking on this incredible cycling and climbing challenge, and for choosing to fundraise for Chestnut Tree House. We wish him the best of luck with his training and the challenge itself!"   
To follow Loren's journey, visit his JustGiving page: www.justgiving.com/fundraising/loren-charlton3 
Chestnut Tree House provides care and support to around 300 children and young people with life-shortening conditions and their families across Sussex and South East Hampshire, both at the hospice and in families' own homes. The cost of providing this service is over £4.6 million per year, yet only a small percentage of the cost of care is funded by central government. The charity relies on the generosity and support of the community to continue providing vital care to local children and families.
For more information about Chestnut Tree House, visit www.chestnut-tree-house.org.uk