Tackling unconscious bias, within the workplace
Published: 10 Sep 2021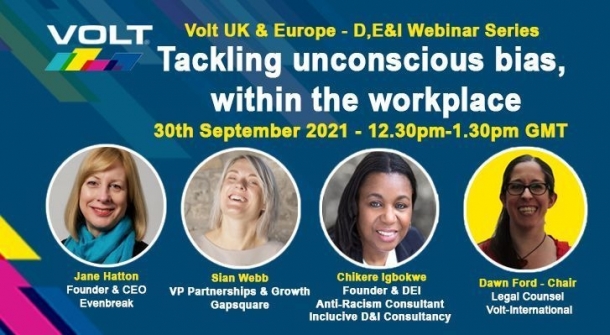 Register free for our next DE&I Webinar, 30 September 2021 – 12.30pm – 1.30pm, GMT
Click here: https://lnkd.in/gPHhQ2M
In this lunchtime webinar session we will discuss unconscious bias in the workplace with D&I company leaders in the UK who are on the front-line of tackling this and explore what new approaches are available.
Chair: Dawn Ford – Legal Counsel at Volt International
Panel Speakers:
Jane Hatton - Founder and CEO at Evenbreak. Jane is a disabled social entrepreneur, TEDx Speaker and author. She founded the award-winning social enterprise Evenbreak.
Chikere Igbokwe (She/her)- DEI & Anti Racism Consultant and Founder at Inclucive D&I Consultancy & Allyship.
Siân Webb - VP & Growth Partner at Gapsquare - We provide innovative solutions to improve pay, equity and inclusion and to ensure that all work is fair.
See more details here.