10-year-old's endurance challenge in memory of stillborn brother
Published: 06 Jun 2022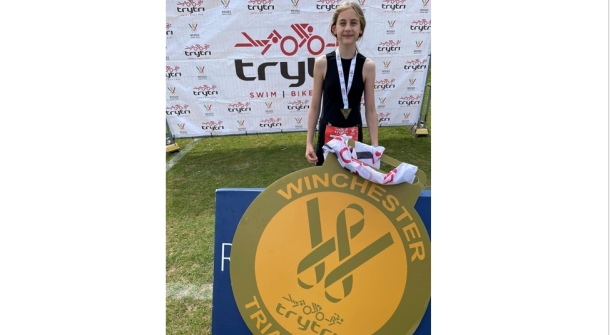 Lottie, 10, has set herself the challenge of completing a two-day endurance event in memory of her brother Joshua, who was stillborn four years ago.
Lottie will be taking on a 50m swim, 2km cycle, and 1000m run in the Henley Kids Triathlon on Saturday 9 July, followed by a half-mile open water swim in the River Thames the next day.
"I wanted to fundraise for Chestnut Tree House as they helped me do arts and crafts when I visited my brother, Joshua, as it was very emotional," says Lottie. "The people at Chestnut Tree House were all really nice and helped me stay calm on my visits. I always left knowing my Mum and brother were in good hands."
Lottie's mum, Fiona, knew that something was not right throughout her pregnancy with Joshua. "I was complaining of no movement throughout my pregnancy, so, at eight months pregnant I went for a private scan," says Fiona. "They soon rushed us for an MRI scan where we found out that Joshua had brain damage due to Toxoplasmosis."
Toxoplasmosis is an infection that can damage a baby's eyes, nervous system, skin, and ears. "We discovered that Joshua's brain had started deteriorating due to the Toxoplasmosis," explains Fiona, "and that he would die during birth or a few hours after labour."
Joshua was stillborn in May 2018 and the family soon found out that the Toxoplasmosis not only affected Joshua's brain, but his skin too. At this difficult time, the family were supported by their local children's hospice, Chestnut Tree House, where they were able to spend some special time with Joshua and say goodbye in their own way.
"I will forever be grateful for Chestnut Tree House. They enabled me to spend time with Joshua and do all the things I've done with my other children – read a book, change his clothes and cuddle him.
"The staff were incredible, they had so much respect, not only for me but for Joshua too. It was the simple things that made such a difference. They would talk to him, spend time with him, and even knock on the door before entering the room.
"I don't think we would have got through what we have been through without Chestnut Tree House. They gave us the strength to carry on in such a difficult time.
"Chestnut Tree House were also a fantastic support for Lottie. She found it really hard at first, but the team helped her understand what was going on and got her strong enough to put some teddy bears in Joshua's coffin for his funeral.
"Without Chestnut Tree House, Lottie wouldn't be the strong girl she is today. She always talks about her dreams of helping people when she's older, and that's because of them.
"I'm really proud of her for taking on these challenges for Chestnut Tree House, she's such a determined, focused, and amazing little girl. She's really looking forward to it," says Fiona.
Speaking about her challenge, Lottie says, "I am excited for the challenge as I am doing it for my brother and it makes me feel close to him.  I am doing this challenge to share his name with the world. I'm very proud to be Joshua's sister and want to make him proud by giving something back to the hospice that gave him, and us, the best care."
To support Lottie's triathlon challenge, please visit: www.justgiving.com/lottie-denman2