CCG Spring Newsletter - Business News
Published: 25 Apr 2022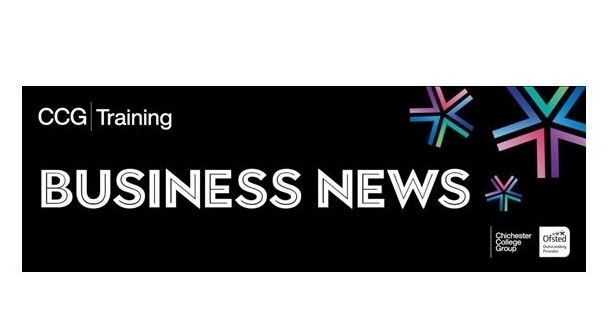 Welcome to the spring edition of our Employer update. It's so nice to experience the start of lighter mornings and evenings as well as the flowers and greenery returning to the outdoors.
It is also great to be out networking again, listening and discussing with business leaders their exciting plans as we move into a post-covid era.
It has been an especially busy few months across the Chichester College Group in which we celebrated being awarded a bid to establish an Institute of Technology in the region with our partners. More information on this to follow shortly.
I was delighted to learn last week that CCG successfully supported 312 people into work through the Kickstart scheme supporting young people into employment. A huge thanks for all the businesses that participated. CCG recruited 14 young people. Those that have finished their placement have either gone into full time jobs in the college, further study or employment with another business.
We have also been busy completing our Skills Development Fund project which focused on skills for electric vehicles, home and commercial decarbonisation, hydrogen and fuel cell technologies as well as agriculture and horticulture green technologies. We will be launching new programmes shortly.
Finally, a huge welcome to the many new employers that have started working with us on apprenticeships. As students commence their final exams after Easter, now is a fantastic time to consider taking on an apprentice.
A bid led by Chichester College Group (CCG) to create an Institute of Technology (IoT) has been approved by the Secretary of State for Education.
The project – led by CCG alongside the University of Sussex, University of Brighton and North East Surrey College of Technology (Nescot) – has the support of many of the region's businesses including NatWest Group, Gatwick Airport Limited, Roche Diagnostics, Ricardo, Wates Group, Southern Water, Irwin Mitchell, Pearson, the Gatwick Diamond Initiative and Coast to Capital LEP.
Following a competitive procurement process, the winners (including six colleges and three universities) will split a £120 million capital funding pot to enhance  higher level skills training across the UK.
If you have hired an apprentice between 1 October 2021 and 31 March 2022, then you could be eligible for the £3,000 incentive grant.
To receive the payment, you must submit an application for each eligible apprentice before 15 May 2022.
You can find a step-by-step guide to help with the application on The Government website. 
T Levels are vocational qualifications similar to A Levels and Apprenticeships. They are designed by employers to give young people the technical and practical skills needed to be an asset in the workplace.
We have over 400 students studying on T Levels across construction, digital, education & childcare and health & science routes.
T Levels include an industry placement for students for a minimum of 45 days/315 hours over 2 years. It's a great way to provide additional support for a project, provide extra business resourcing or 'try before you buy' before taking on an apprentice. Feedback from employers to date has been resoundingly positive.
In addition, you can now claim a £1,000 for every T Level student you host on high-quality industry placement, as part of a new incentive scheme launched in May 2021. You will be able to claim up to 20 students for the available T Level subject areas from 27 May 2021 until July 2022.
For more information speak to one of our experts at T-Levels@chigroup.ac.uk or with the T Level Development Manager James Waters.
APPRENTICESHIP LEVY PAYERS
Did you know that organisations with unspent levy funding can transfer funds to the local community?
If you are a large organisation, you can use any unspent levy funds to help support smaller businesses from your local community to hire an apprentice.
By helping smaller organisations you're boosting the local community, creating more opportunities for apprentices looking for work and you also comply with your corporate social responsibility (CSR).
Talk to us today, to see how you could support local businesses across a range of sectors. Email us at apprenticeships@chigroup.ac.uk or call us on 01243 812 948.
Crawley College has been working in partnership with the Manor Royal BID to deliver training to businesses in the Manor Royal Business District since 2015.  Our next phase of delivery starts this May.
We have successfully delivered to 144 companies and run 218 courses since the beginning of the partnership.  We offer a wide range of courses from Emergency 1st Aid to Excel. Our courses are delivered using staff both employed by the college and external trainers who are specialists in their fields.
Find out all about our training for business on our commercial page, and talk to us if you would like to work in partnership or if you have any other queries. 
VENUE HIRE ACROSS CCG
We have a wide range of spaces to hire at Chichester College Group across our 5 campuses, book now and quote 'EMPLOYER10' for a 10% discount on your first booking.
If you are interested in hiring space from us, please contact Ella Pierpoint for more details and availability.