Early October 2022 rail strikes
Published: 27 Sep 2022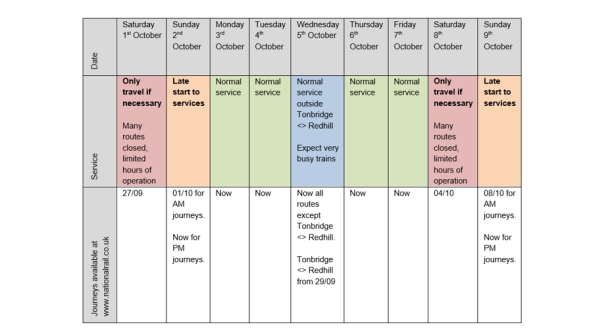 On Saturday 1st and Saturday 8th October, RMT union members will take strike action at Network Rail, GTR and other operators across the UK. As with previous RMT strike dates, the day of the strike will see a very limited service operating, with many stations and routes entirely closed. Previously planned engineering work on Saturday 1st between Brighton and Three Bridges and Balham and West Croydon via Crystal Palace will still take place to prevent disrupting customers later in the year.
As a result, our advice to customers on the 1st and 8th, regrettably, is to travel by rail only if their journey is absolutely necessary, and to warn that where routes are open, first trains will runafter 07:15 and last trains will end by 16:30. Many customers will need to make alternative arrangements.
On Sunday 2nd and Sunday 9th October, the strike has a knock-on impact because essential services such as signalling will not be available until after 07:15. This means that the first trains will not begin their journeys until after 07:15 and significantly later in many locations depending on the distance from depots.
For the London Marathon, taking place on Sunday 2nd October this unfortunately means that it will not be possible to arrive in central London by rail much earlier than 09:00 (depending on route) and the first trains are expected to be extremely busy.
On Wednesday 5th October, with the exception of Tonbridge to Redhill Southern services, Thameslink, Southern, Great Northern and Gatwick Express services will run as normal. However, with other operators such as London Overground or Southeastern unable to run services due to ASLEF strike action, our advice to customers is expect our train services to be extremely busy and to check before travelling for the latest advice. A special school-focused timetable will run on the Tonbridge to Redhill route.
Information for planning journeys on Saturday 1st October is expected to be available in journey planners such as www.nationalrail.co.uk, tomorrow, Tuesday 27 September 2022
Our websites have been updated with a dedicated page containing a calendar, advice for each day and information on compensation and refunds.
https://www.southernrailway.com/travel-information/plan-your-journey/industrial-action
https://www.thameslinkrailway.com/travel-information/plan-your-journey/industrial-action
https://www.greatnorthernrail.com/travel-information/plan-your-journey/industrial-action
A table showing the impact day by day is available above and as always, should you have any questions, please let us know.