Empowering Inclusion - Workplaces of the Future Webinar
Published: 14 Sep 2022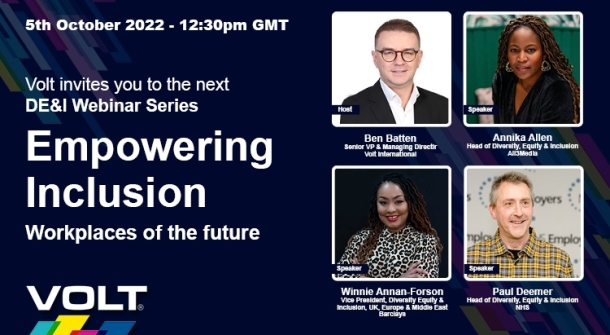 Join Volt's Empowering Inclusion - Workplaces of the Future Webinar - October 5th 2022, 12.30pm - 1.30pm GMT
Register free today: https://lnkd.in/eBUt_FwA

Host
Ben Batten - SVP & Managing Director at Volt International
Speakers:
Winnie Annan-Forson – Vice President Diversity and Inclusion, UK Europe and the Middle East, Barclays
Annika Allen (She/Her) - Head of Diversity, Equity and Inclusion, All3Media
Paul Deemer - Head of Diversity and Inclusion, NHS Employers
 
Agenda
How big an impact can the right technology such as VR/metaverse and similar tools play in improving inclusion and business growth?
What have we learned about diversity candidate tracking through the recruitment process and how will it evolve?
What difference does having a DE&I leadership team make in organizations? What can we do to advance?
With workplaces now either hybrid or remote – how can we monitor inclusion?
What does the future of Diversity & Inclusion hold for us? How do we go beyond traditional diversity initiatives?
Volt is a multi award-winning, global workforce solutions expert committed to taking businesses and people forward.
enquiries@voltinternational.com
#VoltInternational #Webinar #Inclusion #FutureOfWork #October2022 #GlobalDiversityMonth #BlackHistoryMonth