First Central helps students dare to dream across three Sussex-based schools
Published: 25 Apr 2022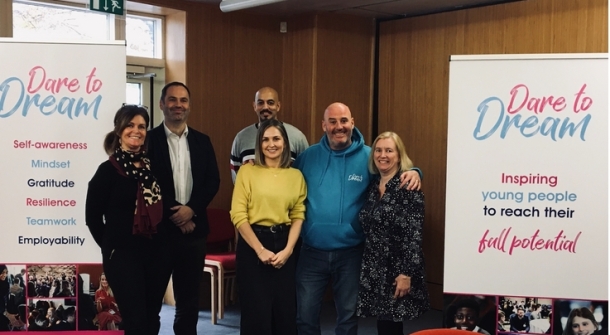 Employees from First Central Insurance & Technology Group, are helping year 9 students across three Sussex-based schools raise their aspirations, improve their self-confidence and dare to dream.
With their support, the Love Local Jobs Foundation is delivering the Dare to Dream programme to over 650 students from Oathall Community College, St Wilfrid's Catholic School and Warden Park Academy throughout the 2021/22 academic year.
Designed around developing essential life skills, boosting self-belief and helping young people achieve their full potential, the programme is delivered by the inspirational Jack 'The Lad' Hayes, one of Sussex's best-known radio presenters.
Using his own experiences, Jack's unique storytelling ability truly engages the students and encourages them to think about what they want from their futures, whilst building their confidence and their own skillset along the way.
In addition to Jack's sessions, 15 employees from First Central are acting as mentors to 45 students to inspire them to fulfil their potential, both personally and professionally.
Commenting on why they're supporting the Dare to Dream programme this academic year, Jo McGowan, First Central's Chief People Officer, said:
"Community is at the heart of First Central – we firmly believe that our communities should benefit from our presence, so supporting local charities and initiatives is of paramount importance to us.
"Dare to Dream is one such initiative we feel privileged to be involved with. This ground-breaking programme enables us to share our knowledge and experiences with students, helping them to grow in confidence and resilience, and to develop their ambitions for the future."
The core themes of the Dare to Dream programme centre on self-awareness, resilience, mindset, gratitude, teamwork and employability, which First Central's mentors are instrumental in supporting.
Working with the students across each school, they're helping them realise their full potential through sharing their own experiences and offering them one-to-one guidance and advice.
One of First Central's mentors, David Jenkins, Learning & Development Trainer, explains:
"It's amazing to be involved in such a positive initiative, helping to promote change and getting the students to think outside of the box. I really took great heart from being able to help the students see their strengths, especially those who struggled with self-belief during an uncertain time of their lives.
"It's a really rewarding programme which I would wholeheartedly recommend to everyone."
Jo McGowan added:
"The benefits of being involved with Dare to Dream go both ways – as the students we work with become more confident, our business mentors are heartened and inspired by the knowledge that they're making a real difference to the lives of young people."