Haywards Heath Business Association is delighted to announce its forthcoming Summer Events Programme
Published: 05 May 2022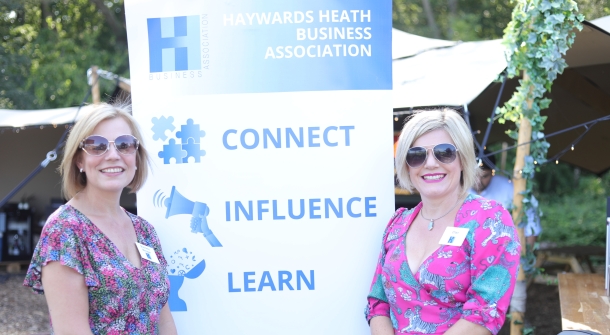 04 May, Haywards Heath – The Haywards Heath Business Association (HHBA) is delighted to announce its 2022 Summer Events Programme.
The HHBA popular networking activities are a corner stone of the association, allowing local businesses to share connections and friendships in order to foster a vibrant, diverse and resilient economy across the region. The monthly networking meetings are a great way to meet like-minded businesspeople informally and generate new ideas that support the regional economy.
The HHBA currently has 150 members, and its activities benefit businesses of all sizes.
The May networking event will take place on Friday 6 May, kindly hosted by the Bluebell Railway in Sheffield Park, in conjunction with East Grinstead Business Association (EGBA) and Burgess Hill Business Parks Association (BHBPA). The 11.30am train will depart from East Grinstead and will give members of the HHBA, EGBA and BHBPA the opportunity to network with fellow business owners and make new connections in a relaxed atmosphere.
On Thursday 9 June members are invited to the HHBA Summer BBQ which is being hosted by the Chichester College Group and the Business Hothouse from 5pm at Haywards Heath College on Harlands Road, RH16 1LT.
Gareth Sear from the Business Hothouse will highlight the business support programme which offers free, expert advice and guidance to businesses and start-up owners.
Paul Rolfe from the Chichester Collage Group will provide an oversight of the exciting and wide-ranging developments happening at Haywards Heath College, as well as across the wider Chichester College Group, focusing on supporting businesses in acquiring and developing existing talent.
On Wednesday 22 June, the HHBA will be hosting its Meet the Experts event with the team from Research and Innovation in Sussex Excellence (RISE). This will offer the opportunity to pitch new business innovation ideas and gain some constructive feedback on concepts. The event also offers the opportunity to meet some collaborative partners to develop ideas and expand knowledge. The HHBA has £5,000 of vouchers to give away for R&D support from the University of Brighton or Sussex for the successful pitchers, decided by a peer vote.
On Thursday 30 June, the HHBA will be hosting its 'Reserved for HHBA' at the Hop Sun pub on Triangle Road in Haywards Heath. This regular event over the summer will be held on the last Thursday of the month, offering a relaxed opportunity for members to network over an after-work drink.
Other highlights include Brewing Beer at The Hop Sun on 19 July and Wine tasting and tour at Ridgeview Wine Estate on 31 August raising money for HHBA member charity Kangaroos.
Clare Jones, chair of the HHBA, commented
"Events are such an important part of the HHBA. Bringing the members together face-to-face to share skills and expertise and network accelerates learning and builds long-lasting connections. We're very pleased to be able to organise a fantastic and varied programme for our membership."
Details of the events can be found here - https://hhba.co.uk/event-directory/To find out more and how to join visit hhba.co.uk