Invest Crawley launches The Create Building - "The finest building between London and Brighton"
Published: 19 Dec 2022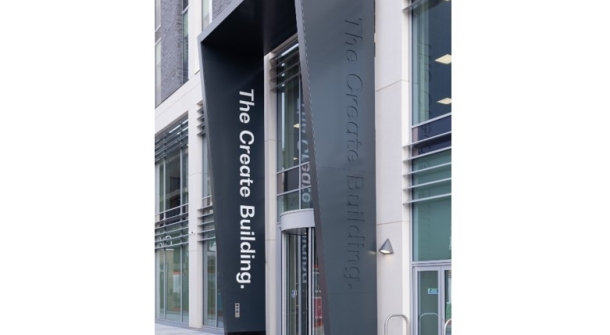 Agents and stakeholders were this morning welcomed to a breakfast event at Crawley's latest and only town centre office development, The Create building in Crawley.
Tours of the high specification Grade A office space, which offers flexibility of sizes from 7,000 sq ft to 77,000 sq ft, were followed by addresses from Adam Godfrey, Senior Partner, SHW – the building's joint letting agents alongside Savills, and Natalie Brahma-Pearl, Chief Executive at Crawley Borough Council.
Against a backdrop of sweeping panoramic views of the town centre and beyond, Mr. Godfrey welcomed guests to what he described as a "best in class" workspace for Crawley.
"We're very much in an age of the flight to quality; the space and the facilities here speak for themselves." On the location and connectivity of the building Mr Godfrey remarks that "a great building really is connected" and The Create Building is no exception: "The building is within 500 metres of 16 cafes, one gym, a fantastic park and a mainline railway station that has been extensively remodelled.
"We have four trains an hour to London taking just 40 minutes, a nine-minute train to Gatwick Airport and we're only two roundabouts away from junction 3, which gives access to Brighton, the south coast and the M25 of the national motorway network".
Natalie Brahma-Pearl, Crawley Borough Council, remarked on Crawley's "rapid mission of regeneration" and how the council have invested millions of pounds into the borough:
"We have a £72m growth programme which you can see elements of as you walk around town - from the public realm improvement evident all the way around this building and down into the town centre, to the new town square and improved train station. There is also £150 million pounds going into a new station at Gatwick Airport.
"Crawley is a really well-connected place. It's hard to find a better-connected place in the country".
Ms Brahma-Pearl also spoke of the skills cluster in the area, which has been further ignited thanks to government funding: "Things are really happening here, there is a massive cluster of skills, energy, innovation, creativity and businesses that want to come along and support this."
On the building's credentials, Ms Brahma-Pearl commented that the "look and feel of the environment in which people work in is fundamental to their productivity and wellbeing" and that the message agents should take away from today is that this building will help prospective tenants to "attract the right staff" thanks to its "good quality workspace and environment". She also spoke of the exemplary green credentials the building offered, remarking that businesses are now "really tuned in to the environmental sustainability agenda."
With many big businesses currently based in the area, and some 44,000 people already commuting into the town for work, Ms Brahma-Pearl hopes new companies or even indigenous companies in Crawley, will want to locate themselves in what she described as "probably the finest building between London and Brighton."
The Create Building development is home to approx. 14,000 sq ft on each floor, has a target for BREEAM Excellent rating and an EPC of high B. Grade A specifications include metal ceiling tiles, raised access floors, fan coil air conditioning, showers with drying rooms, four 17-person passenger lifts and secure parking at 1:350 sq ft.
Located in Crawley, in the centre of the Gatwick Diamond, The Create Building is right in the heart of the town centre's Regeneration Quarter, offering easy access to cafes, restaurants, gyms, and the green space of Memorial Gardens. Crawley also has excellent links via road and rail to London and Gatwick Airport.
The Create Building launch was delivered by White Label Creative as part of the Invest Crawley Programme and in partnership with the joint agents.