Join the wonderful Care Team at Chestnut Tree House
Published: 01 Jun 2022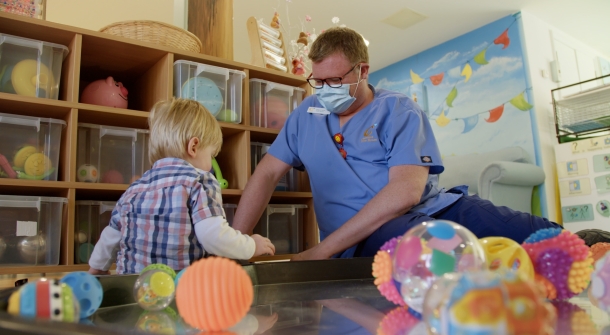 A recent study from Together for Short Lives revealed that, across the country, there is currently an average 18% shortfall in the number of children's hospice care staff, compared with a 10.5% vacancy rate for NHS nurses. Meaning that children's hospices are facing a staffing crisis almost twice as severe as the NHS.
Like other hospices, Chestnut Tree House are currently looking for more nurses, from a variety of backgrounds, to join their team to care for children and young people with life-threatening and life-limiting conditions in Sussex and South East Hampshire.
Mike O'Neill, Registered Nurse at Chestnut Tree House, says, "Chestnut Tree House is such a special and rewarding place to work. I learnt very early in my career that there was something special about children's hospice care and that was the path I chose to follow."
Reflecting on the last five years of his career at the children's hospice, Mike said: "Children's hospice care is all about making the most of short and precious lives and it has taught me the importance of living my own life to the full and never putting anything off. Since working at Chestnut Tree House I am more positive, and I really feel that it's a privilege to be able to care for these children and their families.
"The children and young people I care for all have life-limiting or life-threatening conditions and are unlikely to reach adulthood. As a nurse I'm there to look after all their clinical needs such as medication and managing their pain, but also to help them have as much fun as possible! I might go on a trip to the beach with a teenager who needs support with their ventilator, help manage a toddler's symptoms while they play in the multisensory room or take a poorly baby for a walk in the gardens so tired parents can get some rest. Every day is different at the hospice."
When asked what is next for his career, Mike said: "The hospice has sponsored me to do my degree in Professional Practice at Brighton University. I've just completed my research module, and next year I'm going to be doing the biggest piece of work I've ever done – my dissertation! When I finish, I will be able to use my enhanced skills and knowledge to further my career as a Registered Nurse."
To find out what it's like working at Chestnut Tree House, please watch this video here.
Could you join Chestnut Tree House's wonderful Care Team? You might be already working within palliative care, or be a paediatric, adult or learning disabilities registered nurse looking for a new challenge. If this sounds like you, or someone you know, visit www.chestnut.org.uk/job-type/clinical to find your perfect role.