Last chance to sign up to Castle Night Trek
Published: 27 Apr 2022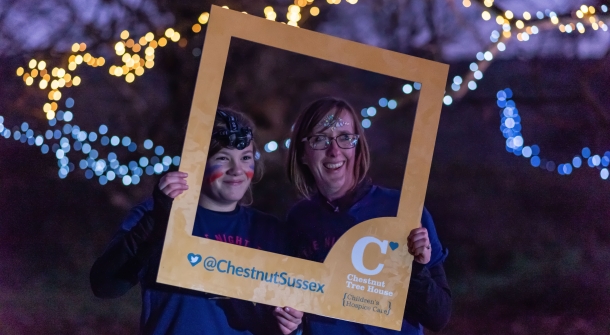 There's not long left to sign up to Chestnut Tree House's Castle Night Trek, a challenging and magical night trek through the gardens and grounds of Herstmonceux Castle, on Saturday 14 May 2022.
Starting at sunset, participants will walk from day to night, reflecting the 24-hour nature of the care and support that Chestnut Tree House offers to local children with life-shortening conditions and their families. Families like Andre's.
Here, Apolina, Andre's mum, shares their story:
When we first arrived in the UK in 2015, Andre was walking and enjoying mainstream school. He didn't have many words, but we didn't know why this was or if anything was wrong.
A year and a half after we moved, I noticed that he was not able to run like other children his age and we had the results back from a blood test which changed everything. I was very sad to learn about his life-changing diagnosis and how the condition would affect our healthy five-year-old boy. The hardest thing was knowing there was nothing we could do to stop it.
When a nurse from Chestnut Tree House came to see us at home, I had never heard about children's hospices – I was still trying to understand Andre's diagnosis and I was determined to look after him myself. But when you have a very sick child, life is non-stop and I realised I couldn't manage it all on my own, especially after he stopped walking.
The thing that has helped most is our visits from the Chestnut Tree House Community Team. Andre's Community Support Worker, Susan, has been coming to our home for almost four years now and from the moment she arrives, I know I can relax. Andre also has autism which means he is not very good with new people, so it is amazing to see how well they have bonded over the years. It also took me some time to leave my child in someone else's hands, but when I see the smile on Andre's face when he is with Susan, I can't believe how happy he is. It's beautiful to see how well she cares for him.
Susan also takes us to lots of fun places as a family during the school holidays. Andre doesn't have many words, but he's not stopped saying 'fish' since we visited an aquarium recently. He's also been on a speedboat, watched an owl show and we've all enjoyed ice cream at a local park. It would be very hard to do these things without Susan, it means a lot to have her by my side so I don't have to worry about anything.
Seeing my boy happy and enjoying life is the most important thing, and I am so grateful to Chestnut Tree House for these experiences. I tell myself that life is not easy for anyone and it's important to appreciate what you have, but I do worry about the future sometimes. All we can do is try to take each day as it comes, but it is comforting to know that whatever happens Chestnut Tree House will be there to support us. I don't know what we'd do without them.
By signing up to Castle Night Trek, every pound you raise over your registration fee will help families like Andre's.
Castle Night Trek will take place on Saturday 14 May 2022 at Herstmonceux Castle. The trek is open to everyone aged 14 years and over (participants aged 14-16 years must be accompanied by an adult). For more information, and to sign up, please visit www.chestnut.org.uk/castlenighttrek Hurry, registration closes on Sunday 01 May 2022 at midnight.