Mayo Wynne Baxter announces appointments for four new partners
Published: 13 Jun 2022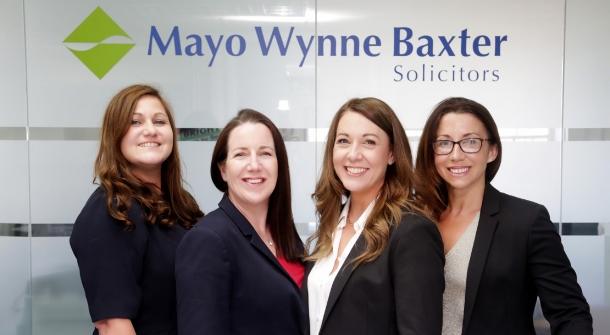 Leading South East law firm Mayo Wynne Baxter is excited to announce internal appointments for four new salaried partners.
Three of the firm's new partners - Claire Busuttil, Tracy Rowden and Jessica Partridge - all work in the private client team, while Gail Waller works in the firm's clinical negligence department.
The new appointments build on Mayo Wynne Baxter's ambitious growth plans, following its recent merger with national legal and professional services group Ampa. The firm is now the group's South East anchor brand.
Claire Busuttil, who is based at Mayo Wynne Baxter's Eastbourne office, trained with the firm and has worked in the private client team for several years.
She said: "I am absolutely thrilled to be made a partner at such an important time for Mayo Wynne Baxter. 
"The recent Ampa merger adds both a new dimension to the way we work and to the broad range of service and skills that we can offer to our clients."
Having first joined Mayo Wynne Baxter in 1998, Tracy Rowden is celebrating 24 years at the firm, as well as her promotion to partner. Tracy was a legal secretary in the private client team for five years before qualifying as a chartered legal executive and now specialises in elderly client affairs and probate matters.
Tracy, who is based at the firm's Seaford office, said: "During my 24 years at Mayo Wynne Baxter, I've been involved in the development of trainee and newly qualified solicitors and am currently acting as the deputy training principal. 
"Having worked my way up through the firm, I'm in an excellent position to guide and advise my junior colleagues and I love being able to contribute to their success.
"I'm excited about this new adventure for both myself and the firm and I look forward to the next 24 years."
Jessica Partridge's promotion to partner comes after three and a half years at the firm, where she specialises in all aspects of private client law, from trusts and estates to capital taxation, wills, powers of attorney and court of protection work.
Jessica, who is based at the firm's Lewes office, said: "I'm proud to start my new role as partner in the private client team, especially at such an exciting time for Mayo Wynne Baxter.
"I will be focusing on growing our trust and tax team and am looking forward to the journey ahead."
Gail Waller has been at Mayo Wynne Baxter since 2013 and completed her training at the firm, joining the clinical negligence department in 2017.
Gail, who is based at the firm's Lewes office, said: "I'm delighted that my promotion to partner coincides with the Ampa merger and I'm excited about the new opportunities this will present for my department and the firm as a whole."
Dean Orgill, chief executive partner at Mayo Wynne Baxter, said: "Our recent Ampa merger is an exciting development which will significantly boost Mayo Wynne Baxter's expansion plans.
"It is also fantastic to see our existing and home-grown talent flourishing and being rewarded. These partner promotions are thoroughly deserved and I would like to congratulate each of them.
"The appointments clearly demonstrate Mayo Wynne Baxter's recognition of our team and the pride we take in our outstanding people."
For more information, please visit: www.mayowynnebaxter.co.uk/