News and opportunities from the University of Brighton - July
Published: 05 Aug 2022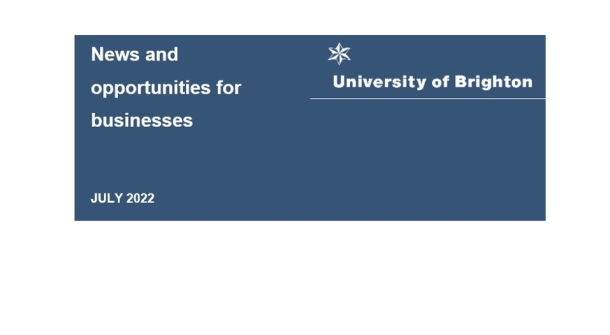 Here are some of this month's highlights for our regional businesses and beyond - including some of the ways we can provide skills and innovation support.
If you would like to find out more about how the University of Brighton could work with your business - do get in touch at enterprise@brighton.ac.uk.
Brighton trio aiming for Commonwealth Games success
Brighton student Ben Hickling is one of three people linked to the university, joining Team England for the Commonwealth Games starting in Birmingham today.
First Ugandan elected to world swimming committee
University of Brighton graduate and former Olympic swimmer Jamila Lunkuse has been elected to the athletes committee of the global swimming federation FINA.
Shaping plans for post-war reconstruction in Ukraine
Professor Robert Mull is working with Ukrainians on future post-war reconstruction plans, drawing on lessons learned after 1990s war in Bosnia and Herzegovina.
Work with us
Access up to £5k worth of academic expertise
Do you want to develop an existing product or service, or solve a specific challenge within your business? Eligible businesses can access up to £5k of cutting-edge research from the Universities of Brighton or Sussex as part of the RISE project - no match funding required.
Help to Grow for leaders
Boost your business's performance, resilience and long-term growth with the Help to Grow: Management course – the only 90% government-funded business course for growth. Designed specifically for SME business owners and senior leaders.
Start dates: Brighton - 12 September, Eastbourne - 11 October
Make your physical product ideas a reality
If you are an established company looking to innovate and develop a product to help your business grow, then our BRITE Product Foundry programme could be just what you're looking for. Join fellow makers on this 7-week intensive innovation programme to help you develop your product ideas through hands-on design, making and testing.
Upcoming events
RISE and Shine Innovation Club (RISE)
8 September, 9.30am-12.30pm, at the Bill Buck Room, Crawley Library
8 September, 10.30–11.30am, Online
Remanufacturing: a solution for business resilience to supply chain disruption?
20 September, 10am-14.30pm, at the University of Brighton, Brighton
Pioneers: create positive impact through industry partnerships (BRITE)
20 September to 27 September, 10am–5pm at Plus X Brighton
Business Model Canvas workshop (CGUK)
22 September, 9.30am–12pm, Online
Net Zero 360: Become a Sustainability Pioneer (CGUK)
14, 21 and 28 September, 9.30am-12.30pm, Online
Product Foundry: make your next product innovation a reality (BRITE)
20 October to 24 November, 10am–5pm, at Plus X Brighton